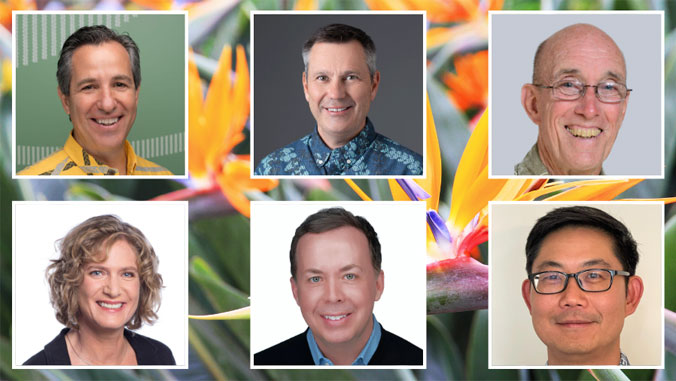 The University of Hawaiʻi Foundation announced its new Board of Trustees, including Richard F. Wacker who returns to the foundation to serve as chair for a second time. Wacker is joined by new trustees Timothy M. Donohue, Randolph G. Moore, Robynne D. Sisco, Jason Taylor and Sutanto Widjaja.
Richard F. Wacker
Rich Wacker first joined the foundation board in 2011 and served as chair of the foundation's 16-member Board of Trustees from July 2019 to June 2022, and served as vice chair prior to that. He is the former CEO and president of American Savings Bank and has served in leadership positions on numerous community boards and business organizations, including the Hawaiʻi Business Roundtable; Child & Family Service; Hawaiʻi Pacific Health; Hawaiʻi Bankers Association; UH—Pacific Asian Center for Entrepreneurship and the UH–XLR8UH accelerator program.
Timothy M. Donohue
Tim Donohue is chief investment officer at Kamehameha Schools, responsible for managing the financial assets portion of the trust's $15 billion endowment and oversees the Kamehameha Schools investment and operations staff in Honolulu and San Francisco.
Prior to joining Kamehameha Schools, Donohue spent 11 years working with the endowment at Columbia University in New York, the last two as chief investment officer in charge of overseeing the university's $11 billion endowment. Donohue was previously a partner and vice president at Booz Allen Hamilton, and has also worked for BHP Petroleum and Caltex Petroleum.
Randolph G. Moore
Randy Moore recently stepped down as chair of the UH Board of Regents after serving as a regent for 10 years, during which he was an ex-officio trustee of the UH Foundation.
Moore served in the Peace Corps in Liberia after college, and returned home to Hawaiʻi to start a 35-year career in business with Castle & Cooke, Molokaʻi Ranch and Kāneʻohe Ranch. After retiring, he taught mathematics at Central Middle School (now Princess Ruth Keʻelikōlani Middle School) in Honolulu for three years, then worked with the Hawaiʻi State Department of Education.
Robynne D. Sisco
Robynne Sisco was recently named vice chair at Workday, a finance and human resources software company. Sisco joined Workday in 2012 and previously served as co-president and led the company's finance, global procurement and internal audit organizations. Prior to that, she spent nearly six years as chief financial officer and, before that, served as chief accounting officer. Prior to joining Workday, Sisco held leadership positions at VMware, VeriSign and Oracle, and held senior finance roles at Visa, General Electric and Ford.
Sisco serves on the boards of mental health benefits provider Lyra Health and software developer Unity Technologies, a video game software development company based in San Francisco.
Jason Taylor
Jason Taylor is chief sales officer for Gannett and president of USAToday Network Ventures, formerly New Media Investment Group Ventures and GateHouse Live, which he founded in 2016 after almost two decades in executive-level media management. His previous work experience includes president and publisher of the Las Vegas Review-Journal; East Group regional president at Gannett; president and publisher at The Clarion-Ledger in Jackson, Mississippi; and president of the Chattanooga Times Free Press in Tennessee. He also served as senior vice president of sales and marketing at The Honolulu Advertiser from 2003 to 2007.
Taylor has served on dozens of nonprofit boards at regional, state and national levels, including HUGS Hawaiʻi, and Kamiloʻiki Elementary School.
Sutanto Widjaja
Sutanto Widjaja is co-founder and managing partner of IndiCo Capital. Previously, he was partner and portfolio manager at Symphony Asset Management (a TIAA-Nuveen company), which managed almost $20 billion for institutional clients across multiple asset classes. He was also co-founder of Sutro Biopharma, now a publicly traded oncology company.
He serves on the board of the International Rescue Committee's Center for Economic Opportunity division and on the Finance/Investment committees of Horizons Foundation and the Honolulu Museum of Art. He previously served as president, treasurer and board member of the San Francisco Public Health Foundation. He grew up in Indonesia and Singapore, and now spends time with his family in both Honolulu and San Francisco.