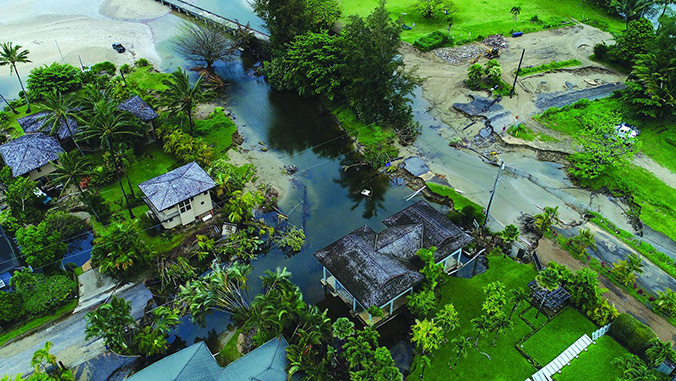 A pair of University of Hawaiʻi at Mānoa College of Engineering and Water Resources Research Center faculty members have earned National Science Foundation (NSF) research fellowships to further our knowledge of flooding risks across the globe to better respond when disaster strikes.
Projects by Professor Sayed Bateni and Associate Professor Jonghyun Harry Lee from UH Mānoa's Department of Civil and Environmental Engineering are two of 10 across the U.S. to receive a total of more than $2.7 million through the NSF Established Program to Stimulate Competitive Research (EPSCoR). This investment, in collaboration with NASA, aims to strengthen research infrastructure and advance STEM talent development institutions across the U.S. Lee will receive $247,742 and Bateni $299,943 for their portion of the funding.
As Research Infrastructure Improvement Track-4: EPSCoR Research Fellows, Bateni will participate in a STEM faculty research fellowship at NASA's Marshall Space Flight Center in Huntsville, Alabama, and Lee will be at NASA's Jet Propulsion Laboratory in Pasadena, California. Bateni and Lee will learn new techniques, develop new collaborations, advance research partnerships, access unique equipment and facilities, and shift their research toward transformative new directions.
Bateni's project: Enhancing flood detection
Bateni's project is focused on enhancing flood detection and mapping using synthetic aperture radar (SAR) data. There is currently a knowledge gap in that area. This fellowship will provide Bateni with a state-of-the-art framework for the precise and rapid detection of flooded areas with high resolution SAR data. The results will be beneficial for a diverse group of stakeholders, including hydrologists, government agencies and contractors, insurance providers, land developers, community planners and individuals living in flood-prone areas.
When Bateni returns from the fellowship to UH Mānoa, he will create educational activities that are designed to encourage underrepresented high school and undergraduate students to pursue advanced degrees in STEM fields and improve education for graduate students.
"I am extremely gratified to receive the NSF and NASA EPSCoR Faculty Fellowship," Bateni said. "I would like to express my sincere appreciation to the NSF and NASA EPSCoR Research Fellows Program, as well as the NASA Marshall Space Flight Center."
Lee's project: Examining surface-groundwater interaction
Through data acquired from NASA's Surface Water and Ocean Topography satellite, Lee will advance the study of surface-groundwater interaction, and develop a new data assimilation method to estimate river water depth and discharge. This work is expected to advance water management efforts in forecasting, as frequent flooding has become a major concern due to climate change.
"I have worked on groundwater contamination remediation, geothermal energy extraction, underground carbon dioxide storage, and surfzone forecast projects supported by NSF, Department of Energy and Department of Defense, and this fellowship will allow me to start a new collaboration with NASA researchers and diversify my research portfolios," Lee said. "I expect the developed methods and software will benefit for the evaluation of Hawaiʻi's freshwater resources and the mitigation of flooding events."
"With access to NASA facilities and equipment, research investigators from EPSCoR jurisdictions will be able to solve challenging problems and solidify lifelong research partnerships," said NSF Director Sethuraman Panchanathan. "This dual agency partnership will also help diversify the U.S. workforce through collaborative research at a federal government level and improve the research capacity of their home institutions and jurisdictions more broadly."