Most of us will never meet a member of a royal family, much less snap a selfie with one. That rare occasion occurred for one very excited student on September 5 inside Hamilton Library at the University of Hawaiʻi at Mānoa.
Christine "Tini" Paletuʻa-Shimasaki, a UH Mānoa senior majoring in Pacific Islands studies, was over the moon after learning Princess Angelika Lātūfuipeka Halaevalu Mataʻaho Napua-o-kalani Tukuʻaho of Tonga had scheduled a visit to Hamilton Library's Hawaiian and Pacific Collections for research.
Paletuʻa-Shimasaki wasted no time and reached out to Honolulu's consular agency of Tonga to see how she could simply tell the royal, hello.
"I don't care if she's walking down the little stretch on Maile Way to the door, I just wanna wave! That's all I wanna do," Paletuʻa-Shimasaki exclaimed. "I just want to go, 'Hey girl, I'm Tongan and you're Tongan and I go here.' I just really wanted to say hi to her."
Princess Lātūfuipeka is the eldest child of Tupou VI, the king of Tonga. The royal family is descended from three ancient dynasties of the kingdom.
Royal greeting
After Tonga's consulate granted Paletuʻa-Shimasaki permission to organize a formal welcome for the princess, she teamed up with UH Mānoa graduate student Malia Tonga and Kalo Cornett to spearhead proper protocol and gathered students such as Macmillan Willyander, Fiorenzo Toncan and Tina Tauasosi, a Community Partnership and Research Specialist at UH Mānoa to collectively prepare.
Upon the arrival of Princess Lātūfuipeka and her royal entourage on the library's fifth floor, she was greeted with a traditional royal greeting in lea fakatonga (Tongan language). Students asked permission to adorned her with lei, a custom called fakamokomoko or keeping royalty cool with fresh adornments.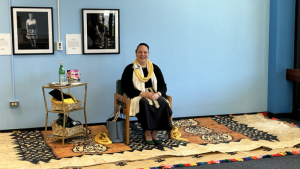 They also set down a meʻa ʻanga or woven mat covered with ngatu (cloth) for the princess to sit, and abided by royal etiquette, ensuring their heads were always kept at a lower height than her.
Pacific resources
According to the consular agency, Princess Lātūfuipeka was interested in accessing the library's extensive collection of Pacific Island materials. Hamilton houses the world's foremost collection of published works about Pacific Island nations from Polynesia, Micronesia and Melanesia and is internationally recognized for the excellence of its holdings which contains more than 100,000 volumes.
For Paletuʻa-Shimasaki, the princess' interest in delving into the university's substantial historical catalog reaffirmed why she chose to pursue her bachelor's degree at UH Mānoa.
"I wanted to go somewhere where I could continue learning about the Pacific region," said Paletuʻa-Shimasaki. "Now, even the princess of Tonga is coming to UH for those same resources and for research! It's like a full circle for me because I know that I'm supposed to be here."
The Center for Pacific Islands Studies is part of the UH Mānoa College of Arts, Languages and Letters.