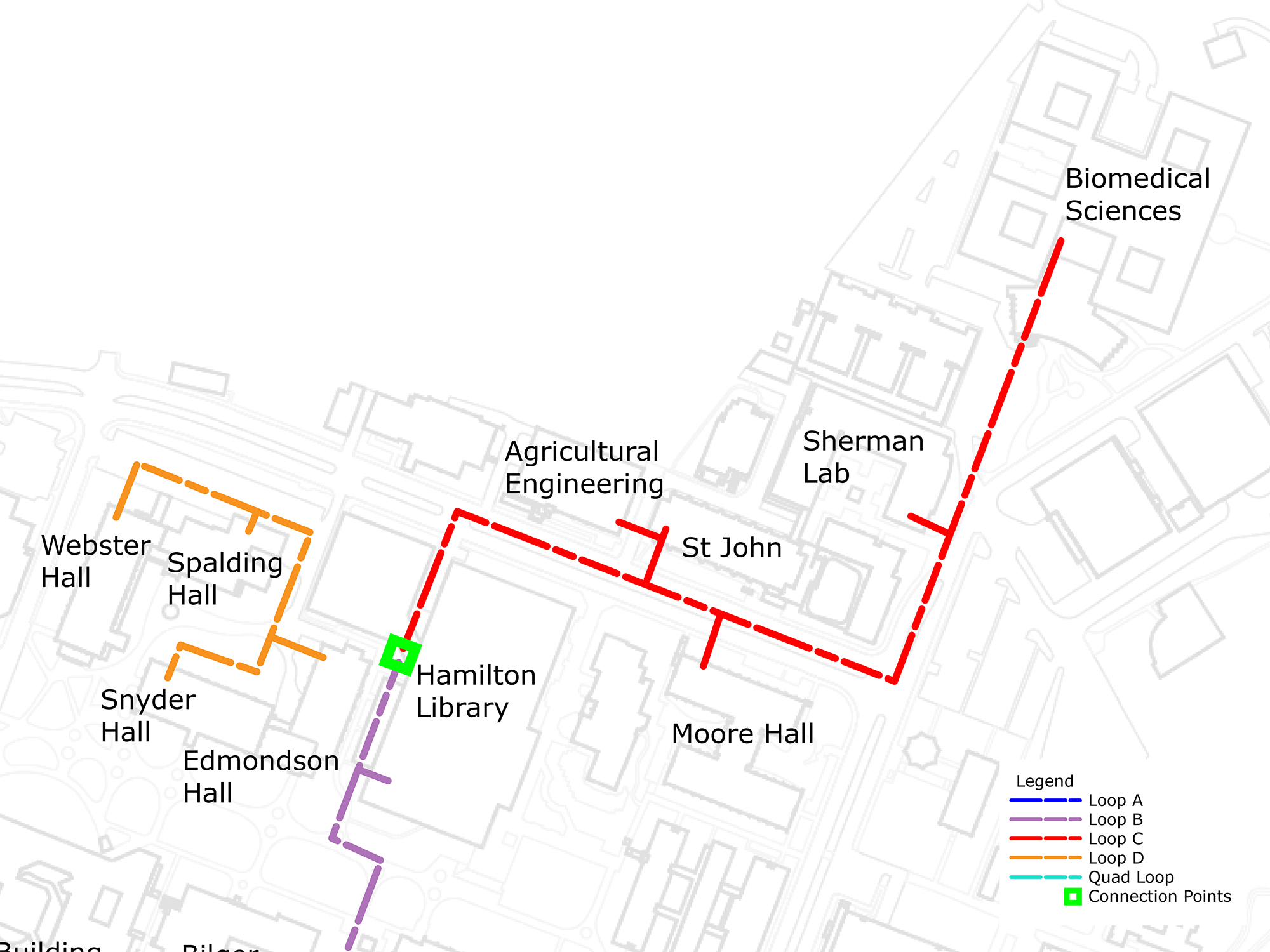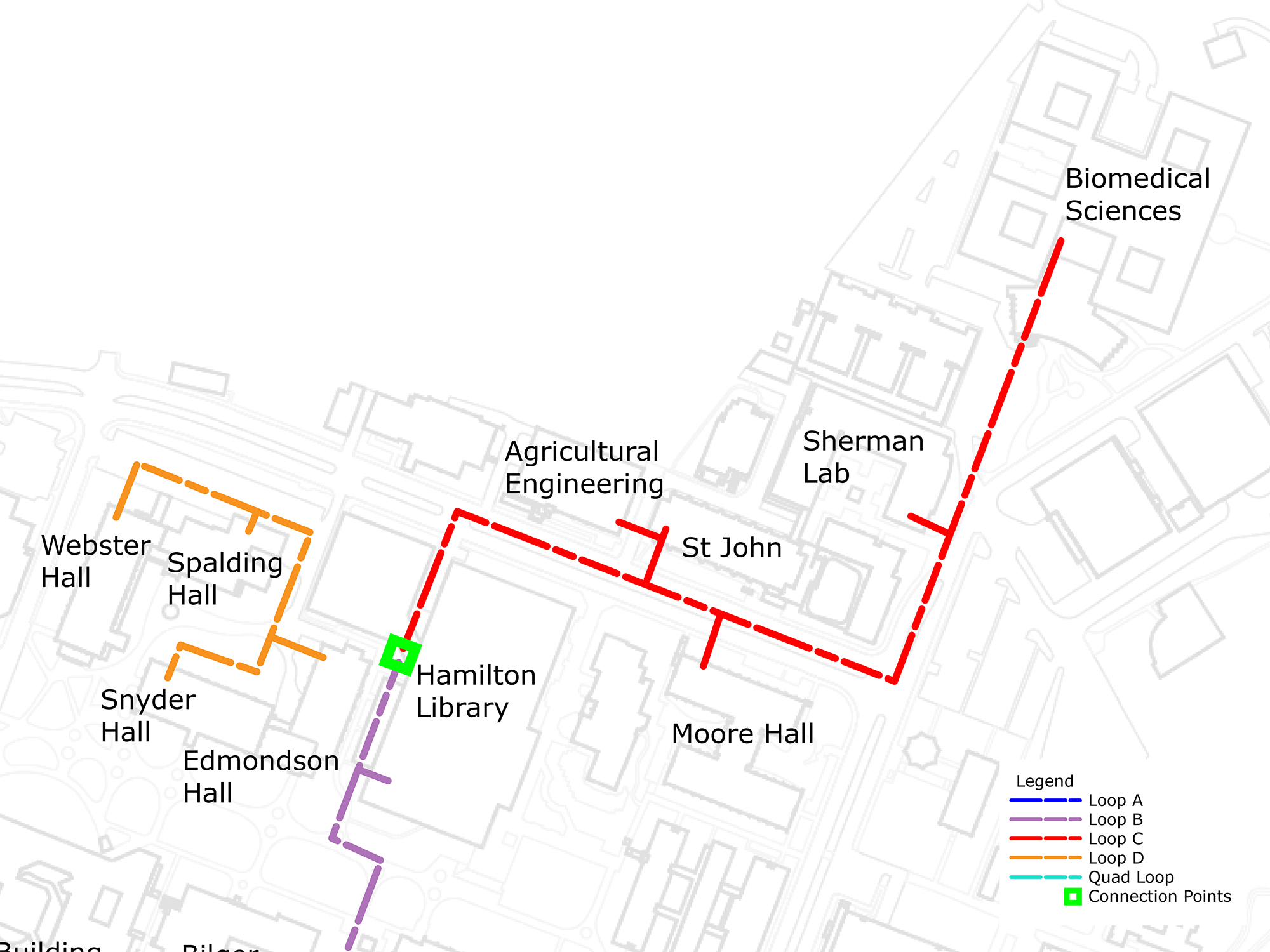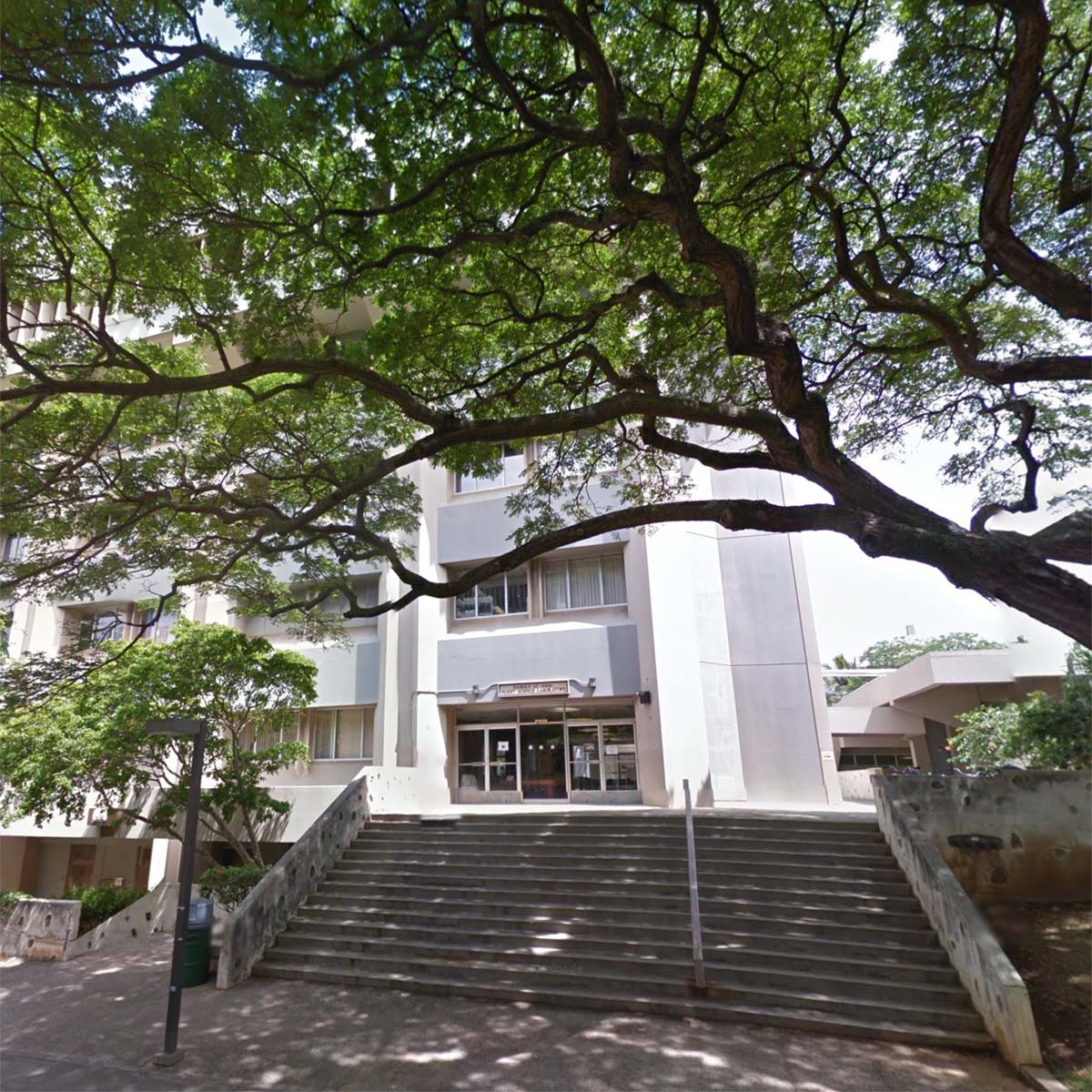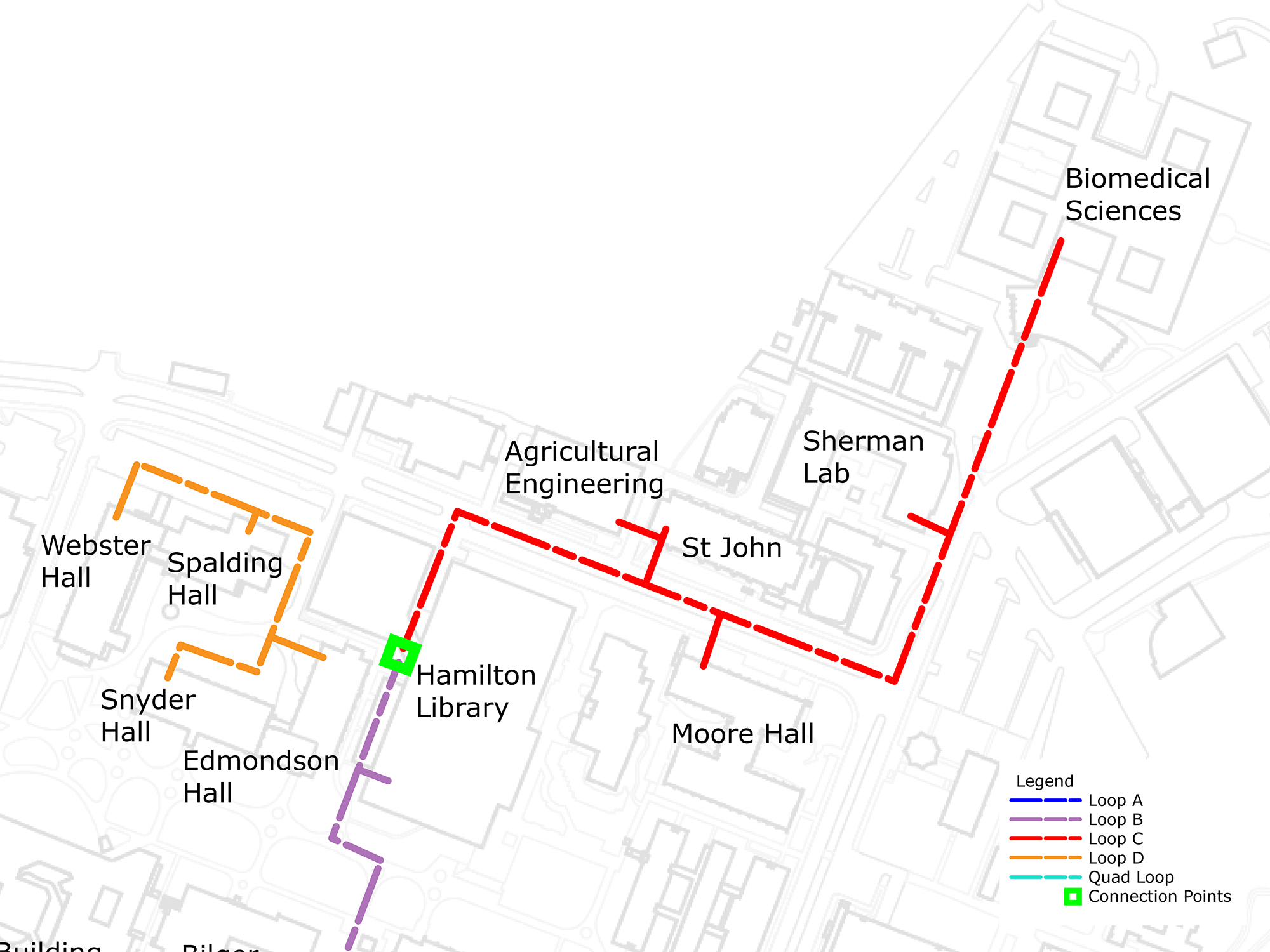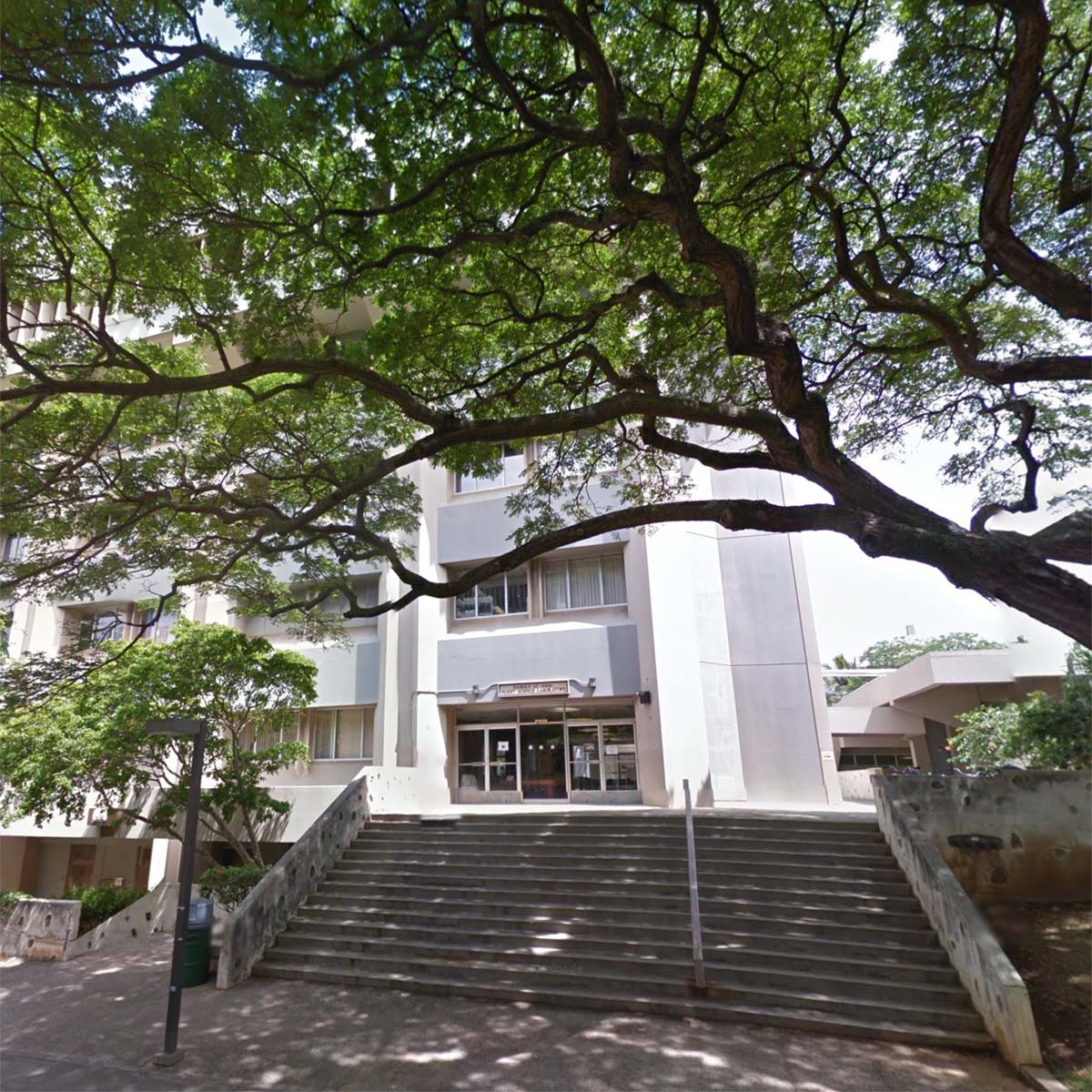 Energy Conserved ~1,200,000 kWh/year
The Loop C chilled water system is one of four major district cooling loops on the Mānoa Campus.  A district cooling loop is made up of a group of buildings connected by water pipes to a central chiller plant or "Anchor Plant". District loops are an efficient way to provide cooling and heating to large facilities like university campuses.
Loop C consists of 5 buildings:
Biomedical Science Building (BIOMED) – Anchor Plant

Sherman Labs

St. John Plant Science Laboratory

Agricultural Engineering (new)

Moore Hall
The original "anchor plant" located in the Biomedical Science Building was designed to provide Loop C with a constant volume of precooled chilled water. This precooled chilled water was delivered to the other buildings, and then each building needed to run its own chiller to complete the cooling process.  In the original configuration, 5 chiller plants would need to be energized, and be maintained which reduced the overall efficiency of the loop. 
The Loop C project reconfigured the entire loop from a Constant Precooled Loop with 5 chiller plants to a Variable Primary Loop with just 1 chiller, thus reducing the need for the other individual building chillers to run.  This reduces both energy consumption, and maintenance. The upgraded system installed variable speed drives and integrated controls at the anchor plant to supply colder chilled water to the recipient buildings allowing them to turn off their chiller plants and run them only when necessary.
One thing to note is that the Biomedical Science Building chillers were replaced in 2005 with machinery that would allow this Loop C project to be possible.  This was a well planned and calculated project which prepared Loop C for this upgrade.
The upgraded controls allow the chilling loop to provide two configuration modes to further improve efficiency.  The modes are as follows:
Normal

: BIOMED supplies cooling for all of the buildings while the other buildings' chiller plants remain shut off.  However, if another building's cooling load exceeds the capacity of BIOMED's chiller, then that building is automatically isolated from the rest of the loop and runs its own chiller. 

Override

: Facilities staff have the option to manually isolate a building from the BIOMED supplied loop in order to run its own chiller.
These configurations are continuously balanced for operational efficiency, service, and maintenance.
The majority  of the cost savings from the Loop C project are from the following upgrades: 
Custom control algorithms

programmed to control VFDs and recipient building chillers to operate at peak efficiency.

Real-time reconfiguration

of chiller plants allow them to operate based on demand. Each building's chilled water status is monitored and chiller plants are run based on loads.

Operational overrides

keep buildings air conditioned:

when servicing or repairing chiller plant equipment

during major infrastructure projects that require parts of Loop C to be shutdown
The project was started in 2009 and completed between 2014 and 2015. Energy savings of approximately 1,200,000 kwh/yr can be observed by comparing 2012 to 2014 data.