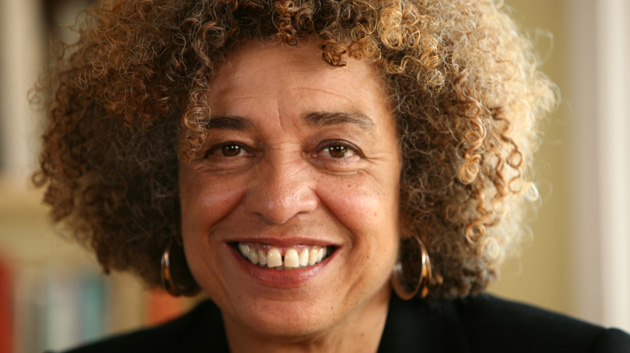 Renowned American political activist, scholar and author Angela Davis has been selected as the spring 2016 Dan and Maggie Inouye Distinguished Chair in Democratic Ideals at the University of Hawaiʻi at Mānoa.
"We are thrilled with the appointment of Professor Davis, whose pursuit of social justice in the U.S. and abroad now spans nearly a half century," said Chancellor Robert Bley-Vroman. "She is a complex and sometimes controversial figure, and we see this as a wonderful opportunity to reintroduce her to a new generation of students and community members."
Davis' rise to the national scene came in 1969, when she was removed from her teaching position in UCLA's philosophy department due to her social activism and membership in the Communist Party, USA. A year later, she was placed on the FBI's Ten Most Wanted List on false charges and was the subject of an intense police search that drove her underground, culminating in one of the most famous trials in recent U.S. history. During her 16-month incarceration, a massive international Free Angela Davis campaign was organized, leading to her acquittal in 1972.
Professor Davis' long-standing commitment to prisoners' rights dates back to her involvement in the campaign to free the Soledad Brothers, which led to her own arrest and imprisonment. Today she remains an advocate of prison abolition and has developed a powerful critique of racism in the criminal justice system.
A founding member of Critical Resistance, a national organization dedicated to the dismantling of the prison industrial complex, she urges people to imagine a world without prisons and to help forge a 21st century abolitionist movement. More recently, she has been active in the Black Lives Matter movement.
A prolific writer and lecturer, she is currently a distinguished professor emerita in the History of Consciousness and feminist studies departments at the University of California, Santa Cruz.
As part of her month-long term as the spring 2016 Dan and Maggie Inouye Distinguished Chair in Democratic Ideals, Davis will be guest teaching a graduate course on American punishment alongside American Studies Professor Robert Perkinson. The course examines the history of American criminal punishment, from the birth of the penitentiary to the rise of the prison-industrial complex.
Public events
Friday, April 8: Keynote presentation at UH Mānoa's Kennedy Theatre, 7–8:15 p.m.
Wednesday, April 13: Community Dialogue on Civic Engagement with Angela Davis and John Waihee, Mission Memorial Auditorium, 6–7:30 p.m.
Davis at Mānoa in the 90s
The last time Davis was featured at a keynote lecture at UH Mānoa was in the mid 1990s, when she drew nearly 900 people into the Campus Center Ballroom.
"She lit up the room, drawing relevance from her civil rights and Black Power activism in the 1960s and 1970s to present a searing critique of the prison-industrial complex that emerged in the 1980s and 1990s," recalled American Studies Professor David Stannard. "As we now enter an election year marked by divisive and demagogic rhetoric, the powerful voice of Angela Davis is one that we all need to hear."
Reflected Daniel and Maggie Inouye's son, Ken, "I think my parents would be pleased with the selection of Angela Davis as this year's distinguished chair. Both of my parents always encouraged a healthy dialogue from all sides of an issue when tackling the tough problems of the day, and they respected individuals who stood by their beliefs, even in the face of government opposition."
More about the Dan and Maggie Inouye Distinguished Chair
Established in 2005 by the UH Board of Regents, the Dan and Maggie Inouye Distinguished Chair in Democratic Ideals brings significant public figures to Hawaiʻi to foster public discourse regarding democratic ideals and civic engagement.
The chair is housed in the Department of American Studies in the College of Arts and Humanities and the William S. Richardson School of Law at UH Mānoa.