Regents' Medal for Excellence in Research
Research Medal Award Winner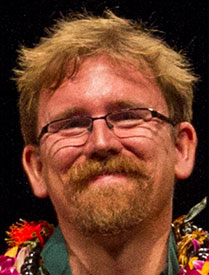 Axel Timmermann
Oceanography
Axel Timmermann is a professor in the Department of Oceanography at the University of Hawai'i at Manoa.
Timmermann studies the causes of past and future climate change and has pioneered the development of computer models that can simulate ice ages and abrupt climate change. He and his team collaborate with oceanographers, geologists and glaciologists worldwide to provide key insights into the dynamical processes that shaped earth's past.
One of his most acclaimed contributions is his seminal study on the sensitivity of the El Niño phenomenon to global warming. Currently, he studies sea level rise, climate impacts on human migration and the long-term predictability of the climate system.
He was lead author of the 5th Assessment Report of the Intergovernmental Panel on Climate Change. In recognition of his scientific accomplishments he also received the Rosenstiel Award from the University of Miami.
The Regents' Medal for Excellence in Research is awarded by the Board of Regents in recognition of scholarly contributions that expand the boundaries of knowledge and enrich the lives of students and the community.
Please contact your Campus Chancellor's Office for more information on the application process.
Current Winners
Go to UH News for stories on the latest honorees.
1965-2015 Honorees
2012–2015 | 2011–2007 | 2006–2002 | 2001–1965
2015

Karen Meech
Astronomy

Robert Thomson
Biology

Axel Timmermann
Oceanography
2014

Ruth Gates
Marine Biology

Andrew Howard
Astronomy

Nick Kaiser
Astronomy
2013

Magdy Iskander
Electrical Engineering

Bin Wang
Meteorology
2012

Roger Ames
Philosophy

Christopher Bae
Anthropology

Aaron Ohta
Electrical Engineering