Regents' Medal for Excellence in Teaching
Teaching Medal Award Winner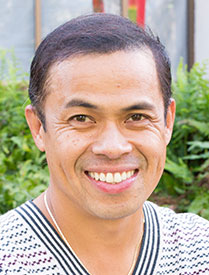 Norman Q. Arancon
Hilo
Norman Arancon is an associate professor of horticulture at UH Hilo.
Together with his students, and in collaboration with other UH Hilo faculty members and colleges, Arancon is slowly transforming the landscape into sustainable gardens where principles of sustainability are integrated, practiced and shared.
Arancon is an internationally known expert in vermiculture and vermicompost and has authored and co-authored 14 book chapters, 46 articles in international scientific journals and has been invited as guest lecturer or presenter to 111 national and international conferences and workshops. Recently, he co-edited three books—Vermiculture Technology, Tea Time in the Tropics and a 4th edition of Biology and Ecology of Earthworms, which highlights his works in vermicomposting in the past decade.
As an Xavier Science Foundation scholar, Aracon obtained his bachelor's degree in agriculture with a major in crop science from Xavier University Ateneo de Cagayan, Cagayan de Oro City, the Philippines. He was awarded a post-graduate diploma in agricultural studies from the University of Queensland, Brisbane, Australia, after an award from the Rotary International Foundation. He obtained MS and PhD degrees in environmental science from Ohio State University as a Fulbright Scholar and as a graduate research associate in 2000 and 2001, respectively.
The Regents' Medal for Excellence in Teaching is awarded by the Board of Regents as tribute to faculty members who exhibit an extraordinary level of subject mastery and scholarship, teaching effectiveness and creativity and personal values that benefit students.
Please contact your Campus Chancellor's Office for more information on the application process.
Current Winners
Go to UH News for stories on the latest honorees.
1965–2014 Honorees
2014 | 2013 | 2012 | 2011 | 2010 | 2009 | 2008 | 2007 | 2006 | 2005 | 2004 | 2003-1965
2015

Pia Arboleda
Manoa

Brian L. Cassity
Kapi'olani

Julia Eve Hammer
Manoa

Roy Y. Kamida
Leeward

Katie Landgraf
West O'ahu

Justin D. Levinson
Manoa

Victoria Mathis
Kaua'i

Aaron T. Ohta
Manoa

L. Ayu Saraswati
Manoa

Ron D. Solis
Manoa

Norman Takeya
Honolulu

Charles Whitten
Windward