A TRANS* Pacific Talk Story: A Night of Mahuwahine and Translatina Solidarity
April 5, 6:00pm - 8:00pm
Mānoa Campus, Halau o Haumea, Kamakakuokalani Center for Native Hawaiian Studies
---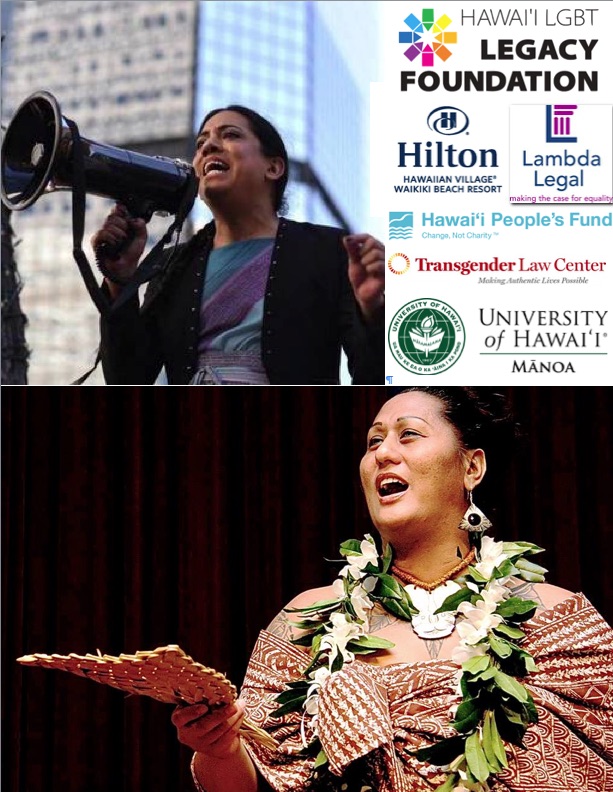 All are invited to a night to celebrate mahuwahine and translatina solidarity spanning the Pacific. How often do we use a critical lens to look at political issues from both an indigenous and transgender perspective? Please join us to take part in a dynamic cross-cultural dialogue about:
Identity. Land. Occupation Colonization. Abuse. Deportation.
Activism. Hope. Community. Love. Advocacy. Justice. Liberation.
Please join us for an interactive talk story session that is sure to include more than talk. We will take action. We will sing. We will challenge our fears. We will seek liberation.
This event is made possible by funding from the Hawai'i LGBT Legacy Foundation, Lambda Legal, Hilton Hawaiian Village Waikiki Beach Resort, L&L Hawaiian Barbeque, The Hawai'i People's Fund, The SEED IDEAS Grant Initiative, Ethnic Studies,and collaboration with Native Hawaiian Student Services, and Kua'ana Student Services.
Ticket Information
Free and Open to All
Event Sponsor
LGBTQ Center, Mānoa Campus
More Information
Camaron Miyamoto, (808) 956-9250, lgbtq@hawaii.edu
---
Tuesday, April 5

10:00am

CANCELLED - USDA Forest Service Information Table

Mānoa Campus, Campus Center Mall (Across from Starbucks)
3:00pm

Public Talk: Dr. Edward P. Gelmann, Finalist for Director, UH Cancer Center

Mānoa Campus, UH Cancer Center, Sullivan Conference Center
3:00pm

Breast Augmentations and Skin Lightening - The Desire to be Better

Mānoa Campus, Saunders 244
3:00pm

JIMAR Seminar

Mānoa Campus, Marine Sciences Building, MSB 100
3:30pm

Living for Art: Stories from the Jean Charlot Collection

Mānoa Campus, Hamilton Library
4:00pm

CANCELLED - USDA Forest Service Information Session

Mānoa Campus, Queen Liliuokalani Center for Student Services Rm. 208
4:30pm

XLR8UH Entrepreneur Info Session - Summer Cohort 4

Mānoa Campus, iLAB (Building 37 between Art Bldg and Kuykendall)
6:00pm

A TRANS* Pacific Talk Story: A Night of Mahuwahine and Translatina Solidarity

Mānoa Campus, Halau o Haumea, Kamakakuokalani Center for Native Hawaiian Studies
6:30pm

Korean Film Series: 200 Pound Beauty

Mānoa Campus, Center for Korean Studies