KORO IHARA: made in earth
February 11, 2020 - February 20, 2020
Mānoa Campus, Art Building, Commons Gallery
---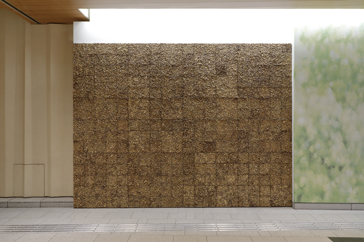 This exhibition highlights the work of Koro Ihara, grand prize winner of the Tokyo Midtown Award 2019 annual art and design competition. His large ceramic work for Tokyo Midtown, made in earth, was inspired by earthworms, the holes they create, and their castings. He is in residence and will be meeting visitors in the Commons Gallery.
"I always try to discover new value through finding traces of living forms that once existed and by-products created by such living creatures. Considering things like mounds made of earthworm casts or a swallow's nest as artwork created by bugs and birds, I work with ceramics to recreate them as they are found in the natural environment. I would like to present an opportunity for people to think about the value of the physicality of human beings."
Koro Ihara was born Osaka, Japan in 1988. He received a BFA in sculpture from Tama Art University, 2011, and an MFA in sculpture from Tokyo University of the Arts, 2013. In 2017 Mr. Ihara was awarded an overseas research fellowship to Italy from the Pola Foundation.
His recent solo exhibitions include worm in progress, Kunstraum Kreuzberg/Bethanien, Berlin, Germany, 2019, and die-dye-red, Taro Okamoto Memorial Museum, Tokyo, 2017. Group exhibitions and projects include Material with time, Tennozu Central Tower Art Hall, Tokyo, 2019; TRASMUTAZIONI, Rome, Galleria d'arte FABER, Rome, 2018; and Contemporary Sculpture by Five Japanese Artists, Serindia Gallery Annex, Bangkok, Thailand, 2017.
Image: Koro Ihara, "made in ground," work for Tokyo Midtown 2019 art and design competition, earthworm cast mounds with gold. 3000 x 4000 x 600 mm (H,W,D)
Ticket Information
Gallery hours: Mon. – Fri. 10:00–4:00; Sun. 12:00–4:00.Admission is free. Parking fees may apply on weekdays, usually free Sunday.
Event Sponsor
Art & Art History, Mānoa Campus
More Information
Sharon Tasaka, 808-956-8364, gallery@hawaii.edu, https://hawaii.edu/art/tokyomidtown2019/
---
Tuesday, February 11

9:00am

Blood Bank of Hawaii Blood Drive

Mānoa Campus, Campus Center, Executive Dining Room
10:30am

CANCELLED: Qualify for SNAP with SPAM

Mānoa Campus, UHM Campus Center
12:00pm

CANCELED: ISR Sustainable Cities Seminar Series

Mānoa Campus, iLab (Building 37)
12:00pm

In the Footsteps of Buddhabhadra: Revisiting Buddhism in the Six Dynasties

Mānoa Campus, Moore Hall, Room 109, University of Hawai'i at Manoa
12:30pm

Educational Psychology Final Oral Defense

Mānoa Campus, N1A
5:30pm

Mele and Social Justice with Dean Jon Osorio

Mānoa Campus, Gartley Hall Room 103, 2430 Campus Rd.