2020 Words on Music Public Talk featuring Professor Bonnie C. Wade
February 25, 5:00pm - 6:30pm
Mānoa Campus, Tokioka Room (Moore Hall 319)
---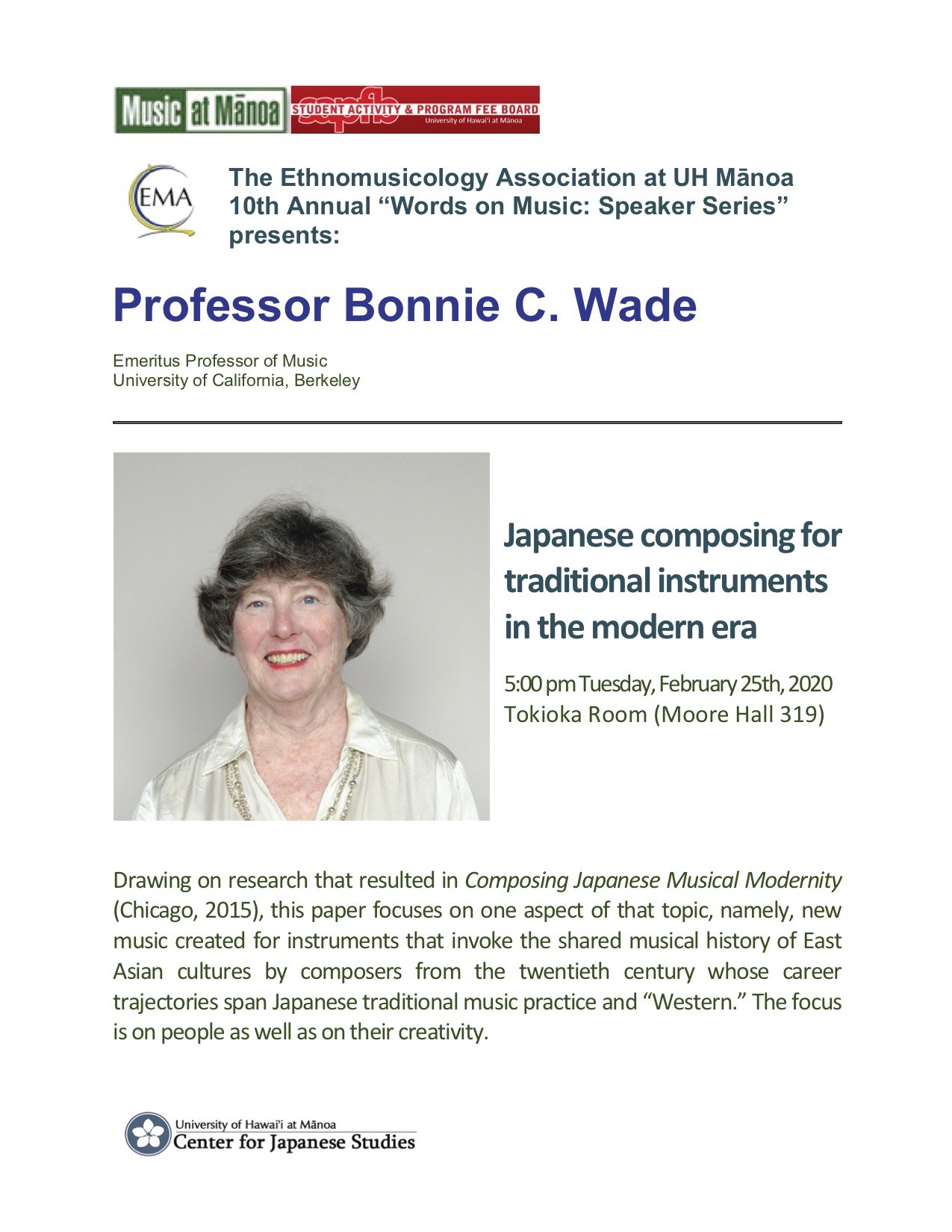 The Ethnomusicology Association (EMA) at the University of Hawai'i at Manoa is proud to announce Professor Bonnie C. Wade, Emeritus Professor of Music at the University of California, Berkeley, as our 2020 Words on Music speaker.
"Japanese composing for traditional instruments in the modern era"
Drawing on research that resulted in Composing Japanese Musical Modernity (Chicago, 2015), this paper focuses on one aspect of that topic, namely, new music created for instruments that invoke the shared musical history of East Asian cultures by composers from the twentieth century whose career trajectories span Japanese traditional music practice and "Western." The focus is on people as well as on their creativity.
In 1975-76 Professor Wade joined the University of California, Berkeley as the first woman professor in the Department of Music and the first ethnomusicologist. She quickly established instruction in Asian musics and a graduate program. As a teacher, she has authored three textbooks and co-general edited the Global Music Series (27 volumes) for Oxford University Press.
Prof. Wade served on the Directorium of the International Musicological Society, as Vice-President of the American Musicological Society, and President of the Society for Ethnomusicology. As a scholar she devoted three periods of fourteen years each to three very different projects that resulted in Khyal: Creativity Within North India's Classical Musical Tradition (Cambridge University Press 1984), Imaging Sound: An Ethnomusicological Study of Music, Art, and Culture in Mughal India (University of Chicago Press 1998); and Composing Japanese Musical Modernity (University of Chicago Press, 2015).
We are excited about Professor Wade?s arrival and we hope that you will join us on February 25th.
If you have any questions, please contact EMA at emauhm@hawaii.edu.
Event Sponsor
Music Department, Center for Japanese Studies, SAPFB, Mānoa Campus
More Information
(650) 448-7278, emauhm@hawaii.edu
---
Tuesday, February 25

9:00am

Blood Bank of Hawaii Blood Drive

Mānoa Campus, Campus Center, Executive Dining Room
12:00pm

CANCELED: ISR Sustainable Cities Seminar Series

Mānoa Campus, iLab (Building 37)
12:00pm

China & Japan: Facing History

Mānoa Campus, Location to be decided
1:30pm

Oceanography Final Oral Defense

Mānoa Campus, MSB 100
2:30pm

Resume & Cover Letter: Market Yourself on Paper

Mānoa Campus, Google Hangout Meets
3:00pm

Explaining Your Research in 3 Minutes or Less

Mānoa Campus, Kuykendall Hall, Room 305
5:00pm

2020 Words on Music Public Talk featuring Professor Bonnie C. Wade

Mānoa Campus, Tokioka Room (Moore Hall 319)