"Guzzle" Performance: SymbioSEAS Science-Art Exhibit
March 29, 7:00pm - 9:00pm
Mānoa Campus, The ARTS at Marks Garage (1159 Nuuanu Ave, Honolulu, HI 96817)
---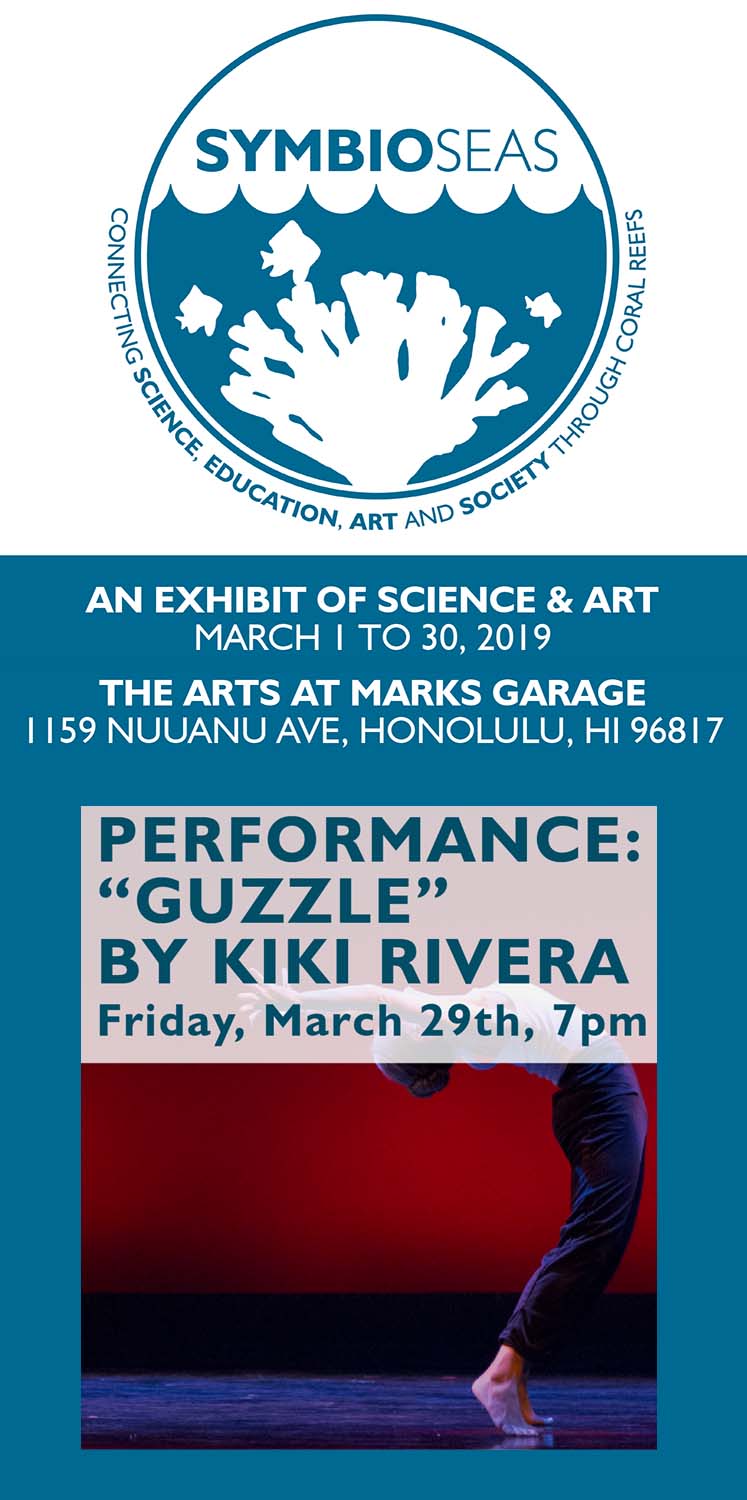 Allow yourself to be submerged in our oceans and interact with local actors and dancers during the world premiere of "Guzzle" by Kiki Rivera.
Guzzle is a one-of-kind performance that uses movement and drama to portray modern consumerism through the eyes of "creature."
Choreographed by Harmony Tesoro and directed by Tina Uyeno.
Cost: $10 (presale); $15 (at the door)
Event Sponsor
HIMB, Mānoa Campus
More Information
(808) 521-2903, https://www.facebook.com/events/250975895834133/
---
Friday, March 29

10:00am

Nursing Practical Final Oral

Mānoa Campus, Webster 423
12:00pm

Public Lecture: State of Public and Private Blockchains - Myths and Reality

Mānoa Campus, Hamilton Library Basement Room 3F
1:00pm

Nursing Practice Final Oral

Mānoa Campus, Webster 423
3:00pm

Seminar: Religious Radicalism and Deradicalization Program for SOSMA Detainees

Mānoa Campus, 1601 East-West Road, John A. Burns Hall, Room 3121/3125 (3rd Floor)
3:30pm

Vertically Integrated Projects (VIP) Poster Session

Mānoa Campus, Campus Center Ballroom
3:30pm

Earth Sciences Seminar: Niels Grobbe

Mānoa Campus, POST 723
3:30pm

Nursing Practice Final Oral

Mānoa Campus, Webster 423
3:30pm

Marine Biology Final Oral

Mānoa Campus, Bilger 150
5:00pm

Spring Blast

West Oʻahu Campus, Great Lawn
5:00pm

Family Advantage! Program Nights

Mānoa Campus, 2727 Woodlawn Drive, Honolulu, HI. 96822
5:30pm

Women Leaders in Public Administration: Challenges & Achievements

Mānoa Campus, Campus Center Executive Dining Room
7:00pm

"Guzzle" Performance: SymbioSEAS Science-Art Exhibit

Mānoa Campus, The ARTS at Marks Garage (1159 Nuuanu Ave, Honolulu, HI 96817)
7:30pm

Andrea Ximena Maciel Villegas, soprano (master's recital)

Mānoa Campus, Orvis Auditorium