Zoe Hastings and Mahealani Botelho on agroforestry restoration
April 24, 11:00am - 12:00pm
Mānoa Campus, Lyon Arboretum (3860 Manoa Rd)
---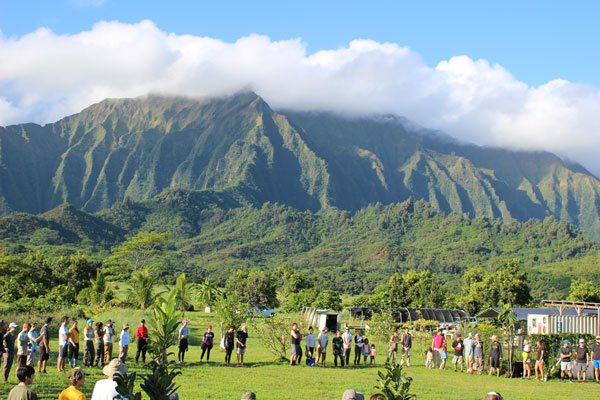 Zoe Hastings and Mahealani Botelho: Agroforestry restoration.
Agroforestry, a traditional land-use system that was once widespread in Hawai'i, can simultaneously conserve biodiversity, sequester carbon, and produce culturally and economically valuable products. While interest in restoration of agroforests is growing, designing systems remains challenging. We tested design process and established a long-term restoration experiment at Kākoʻo ʻŌiwi in Heʻeia. We will discuss some of the opportunities and challenges involved in this approach.
Part of the Brown Bag Lunch series. Open to all, 11 am – noon at our Visitors Center. Come hear about research by current and recent University of Hawai'i botany students! Bring your brown bag lunch and your hungry brain.
Ticket Information
Free, open to all. For more information, call Emily Grave, Laukahi Network Coordinator, (808) 988-2993.
Event Sponsor
Lyon Arboretum, Mānoa Campus
More Information
Emily Grave, (808) 988-2993, https://manoa.hawaii.edu/lyonarboretum/event/brown-bag-lunch-zoe-hastings-and-mahealani-botelho-on-a
---
Wednesday, April 24

10:00am

Coffee and Snacks Station

West Oʻahu Campus, D-bldg tunnel
10:45am

Administrative Professionals Day Luncheon

Mānoa Campus, Campus Center Ballroom
11:00am

Zoe Hastings and Mahealani Botelho on agroforestry restoration

Mānoa Campus, Lyon Arboretum (3860 Manoa Rd)
11:15am

Administrative Professionals Day Luncheon

Mānoa Campus, Campus Center Ballroom
11:45am

Administrative Professionals Day Luncheon

Mānoa Campus, Campus Center Ballroom
12:00pm

China Research Seminar public talk

Mānoa Campus, Moore Hall 109
12:00pm

Earth Sciences Master's Plan B Presentation

Mānoa Campus, POST 723
12:00pm

Fulbright Scholar Dr. Matteo Zallio Presentations

Mānoa Campus, Gartley Hall 018 and School of Architecture (Arch 214)
1:00pm

Molecular Biosciences & Bioengineering Final Oral

Mānoa Campus, Keller 102
2:00pm

Hawaii Institute of Geophysics and Planetology Seminar: John Moores

Mānoa Campus, POST 544
3:00pm

Journey Through the Nat Sciences in Hamilton Library's Rare Book Collection

Mānoa Campus, Hamilton Library #306
3:00pm

Gallery Walk-throughs with the Artists on 4/22, 4/24, & 4/26

Mānoa Campus, ART Building, The Art Gallery
3:30pm

Atmospheric Sciences Seminar: Martin Singh

Mānoa Campus, Marine Sciences Building, MSB 100
4:00pm

LGBTQ+ Coffee Hour

Mānoa Campus, Queen Liliuokalani Center 208
4:00pm

Serendipity and Sociology: Five Decades of Studying Japanese Society

Mānoa Campus, Center for Korean Studies Auditorium
4:15pm

Professional Associations Talk on Career Paths

Mānoa Campus, Shidler College of Business, Room G-102
5:00pm

ASUH Student Suggestion Session: Sinclair Renovation

Mānoa Campus, Campus Center Room 310
6:00pm

Night Owl Nook (Late Night Study Sesh)

West Oʻahu Campus, Naulu Center and C-225
7:30pm

The Country Wife

Mānoa Campus, Kennedy Theatre