Friendsgiving - Free Samples, Giveaways, & Donations to the Food Vault Hawaii
November 13, 10:30am - 1:00pm
Mānoa Campus, Campus Center Courtyard
---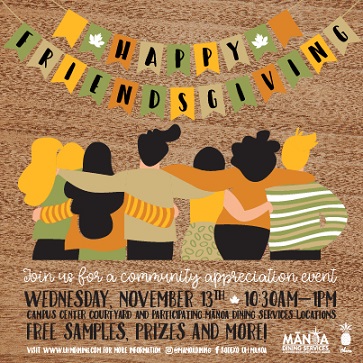 Join Manoa Dining Services on Wednesday November 13 at the Campus Center Courtyard from 10:30am-1:00pm to celebrate Friendsgiving!
FREE food samples, prizes, and giveaways, all while supporting the Food Vault Hawaii! Bring a canned good food donation AND/OR post a picture on social media @ our grateful board and Manoa Dining Services will make a $1 donation to the Food Vault on campus.
We look forward to seeing you!
Event Sponsor
Manoa Dining Services, Mānoa Campus
More Information
Marcie Moribe, (808) 219-9613, marcie.moribe@sodexo.com, http://www.uhmdining.com
---
Wednesday, November 13

10:30am

Friendsgiving - Free Samples, Giveaways, & Donations to the Food Vault Hawaii

Mānoa Campus, Campus Center Courtyard
10:30am

Food Vault Hawaii Food Drive at Friendsgiving!

Mānoa Campus, Campus Center Courtyard
11:30am

Undergraduate Research Opportunities Program (UROP) Information Session

Mānoa Campus, iLab Building 37, 2532 Correa Road, Honolulu, HI 96822
12:00pm

"How New Media Has Changed Chinese Society"

Mānoa Campus, Moore Hall, Room 109, University of Hawai'i at Manoa
12:00pm

Basics of Essential Oils

Mānoa Campus, Queen Liliuokalani Center for Student Services, #412
1:30pm

"THE MISTRESS" Screening & Discussion with Filmmaker Crystal Kwok

Mānoa Campus, Crawford Hall 115
1:30pm

Film Screening of the Mistress

Mānoa Campus, 2500 Campus Rd, Crawford 115 Honolulu, HI 96822
3:30pm

Pushkin Day: Explore Russia's greatest cultural and literary icon

Mānoa Campus, 252 Moore Hall
3:30pm

Atmospheric Sciences Seminar

Mānoa Campus, Marince Sciences Building, MSB 100
4:00pm

CANCELED: Na'au Checks: a Kukakuka group

Mānoa Campus, Queen Lili'uokalani Center #412
5:30pm

CCBAC Self Defense Workshop

Mānoa Campus, Campus Center Executive Dining Room