Hawaii Book and Music Festival webinar - How Can UH Lead Hawaii Forward?
October 2, 12:00pm - 1:00pm
Mānoa Campus, Zoom webinar
---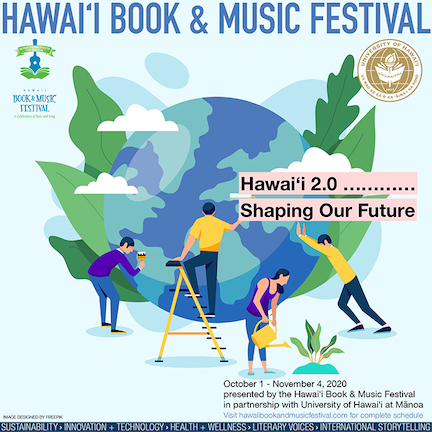 The 15th annual Hawaii Book & Music Festival takes off virtually this year with a special set of in-depth presentations covering a variety of topics deeply impacting our local community.
Join UH Manoa Provost Michael Bruno, John A. Burns School of Medicine Dean Jerris Hedges, UH West Oahu Chancellor Maenette Benham and UH Manoa Interim Associate Vice Chancellor for Academic Affairs Laura E. Lyons as they discuss how COVID -19 challenges are impacting the entire UH System.
Register in advance for this webinar: https://hawaii.zoom.us/webinar/register/WN_45_S5qudRWODyoUmF4qLAg
Event Sponsor
Various departments, Mānoa Campus
More Information
Amy Hammond, 808-223-6040, https://hawaiibookandmusicfestival.com/
---
Friday, October 2

8:30am

Semester in Seville, Spain Information Meeting

Mānoa Campus, Zoom
12:00pm

Hawaii Book and Music Festival webinar - How Can UH Lead Hawaii Forward?

Mānoa Campus, Zoom webinar
12:30pm

Semester in London, England Information Meeting

Mānoa Campus, Zoom
1:00pm

Got Kids? Catch up with SPAM Every Wednesday!

Mānoa Campus, for meeting password email gotkids@hawaii.edu
2:00pm

Linguistics Final Oral

Mānoa Campus, Zoom Video Conferencing, Link Below
2:00pm

Hawaii Book & Music Festival webinar- Intro to Innovation Future Program

Mānoa Campus, Zoom webinar
3:00pm

Co-Finder

Mānoa Campus, Zoom
3:00pm

RBG—Her Life & Legacy

Mānoa Campus, ONLINE
3:00pm

Better Tomorrow Speaker Series: RBG's Life and Legacy

Mānoa Campus, Zoom
3:30pm

Earth Sciences Seminar

Zoom Meeting
3:30pm

Hawaii Book and Music Festival webinar - Elemental Excelerator & Blue Startups

Mānoa Campus, Zoom webinar
5:00pm

Hawaii Book & Music Festival webinar - Green Growth Hawaii & Investment Ready

Mānoa Campus, Zoom webinar
7:00pm

SCEP Live Online Fall Concert Series: Jazz

Mānoa Campus, Online