Brown Bag Biography: Kristiana Kahakauwila
October 29, 12:00pm - 1:15pm
Mānoa Campus, Zoom
---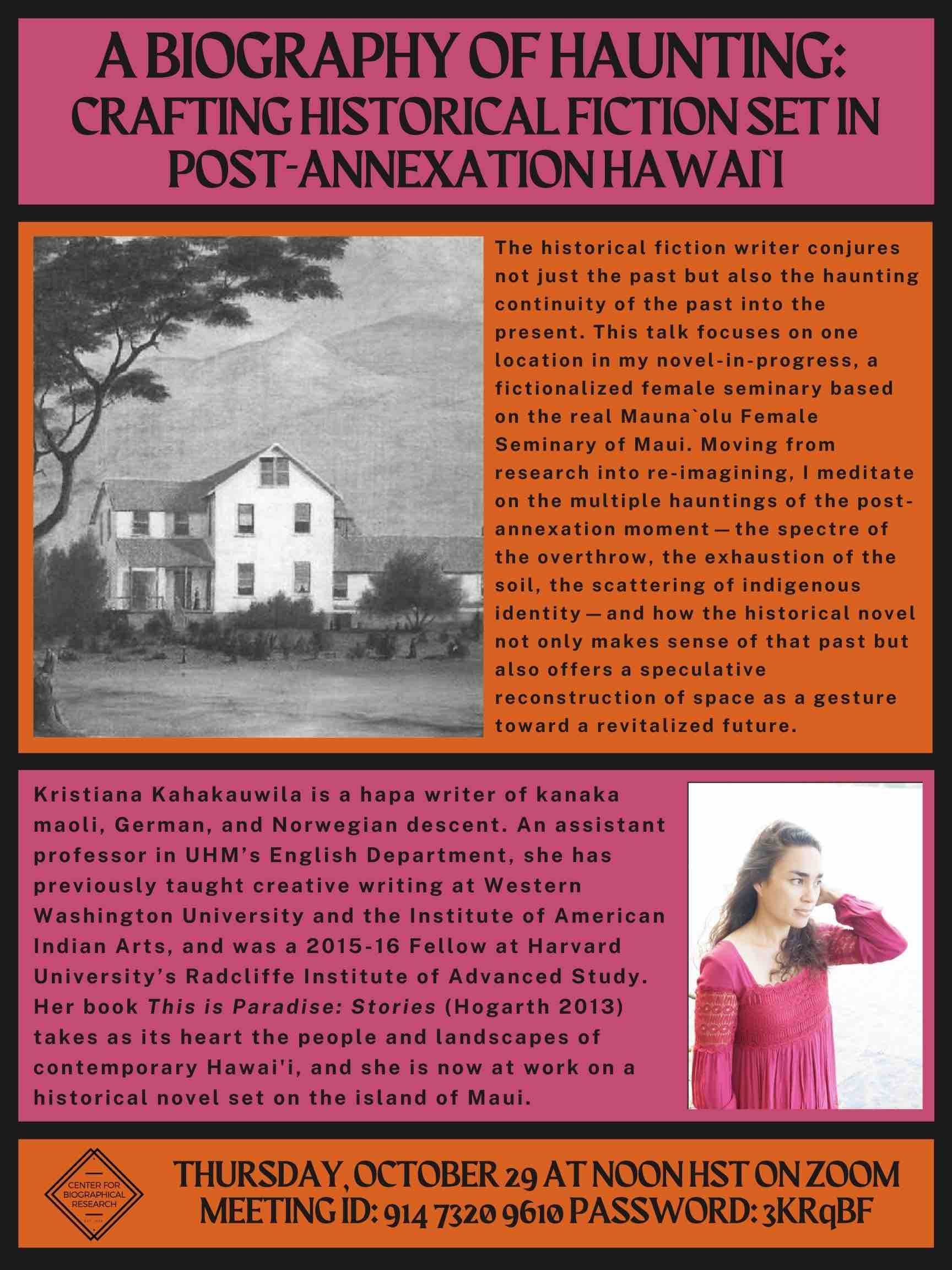 Meeting ID: 914 7320 9610
The historical fiction writer conjures not just the past but also the haunting continuity of the past into the present. This talk focuses on one location in my novel-in-progress, a fictionalized female seminary based on the real Maunaolu Female Seminary of Maui. Moving from research into re-imagining, I meditate on the multiple hauntings of the post- annexation moment—the spectre of the overthrow, the exhaustion of the soil, the scattering of indigenous identity—and how the historical novel not only makes sense of that past but also offers a speculative reconstruction of space as a gesture toward a revitalized future.
Kristiana Kahakauwila is a hapa writer of kanaka maoli, German, and Norwegian descent. An assistant professor in UH Manoa's English Department, she has previously taught creative writing at Western Washington University and the Institute of American Indian Arts, and was a 2015-16 Fellow at Harvard University's Radcliffe Institute of Advanced Study. Her book This is Paradise: Stories (Hogarth 2013) takes as its heart the people and landscapes of contemporary Hawaii, and she is now at work on a historical novel set on the island of Maui.
Event Sponsor
Center for Biographical Research, Mānoa Campus
More Information
Zoë Sprott, (808) 956-3774, gabiog@hawaii.edu, http://blog.hawaii.edu/cbrhawaii/
---
Thursday, October 29

8:00am

Natural Resources & Environmental Management Final Oral

Mānoa Campus, Zoom Video Conferencing, Link Below
12:00pm

Brown Bag Biography: Kristiana Kahakauwila

Mānoa Campus, Zoom
12:00pm

Hawaii Book and Music Festival webinar - Triple Threats

Mānoa Campus, Zoom webinar
2:00pm

"Peace Education in Nagasaki" with Aoi Osajima and Sunao Takami

Mānoa Campus, Online Event
2:00pm

UH Manoa Graduate Entry Program in Nursing (GEPN) Informational Session

Online via Zoom Webinar
2:30pm

College of Social Sciences Info Session: Journalism

Mānoa Campus, Online via Zoom
3:00pm

Professional Educational Practice Final Oral

Mānoa Campus, https://coehawaii.zoom.us/my/ronnietk.zroom
5:30pm

Who Tells Our Stories? A Panel on Filipinx/a/o Representation in the Media

Mānoa Campus, Zoom
6:00pm

AAUW Movie Night - On the Basis of Sex

Mānoa Campus, 2600 Campus Road, QLC 209
7:00pm

GSO Self-Compassion Hour

Mānoa Campus, Zoom
7:00pm

Self-Compassion Hour: Compassion in Action

Mānoa Campus, Zoom