Teaching ESL in the Peace Corps
November 19, 3:00pm - 4:00pm
Mānoa Campus, Zoom
---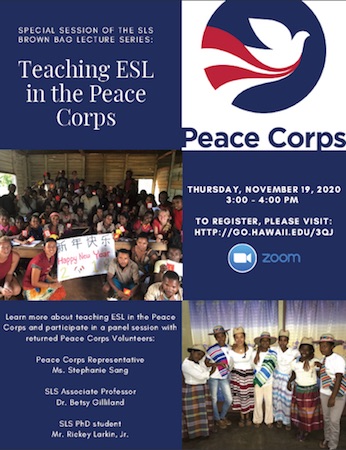 Teaching ESL in the Peace Corps - Special Session of the SLS Brown Bag Lecture Series
Thu, November 19, 3–4 p.m.
To register, please visit http://go.hawaii.edu/3QJ
Stephanie Sang (Peace Corps Representative, UH Manoa)
Dr. Betsy Gilliland (Associate Professor, Second Language Studies)
Rickey Larkin, Jr. (PhD Student, Second Language Studies)
The Peace Corps offers opportunities to engage in many kinds of much-needed work, but one area where they often need great people is in teaching English as a second language (ESL). Stephanie Sang, the UH Manoa representative for the Peace Corps, will be giving a presentation about teaching ESL in the Peace Corps, followed by a Q&A panel session including Stephanie and also Dr. Betsy Gilliland and Rickey Larkin, Jr., both from Second Language Studies.
Stephanie was a Peace Corps volunteer in Madagascar from 2016 till 2018, where she served as an ESL teacher. She also was invited by the Ministry of Education of Madagascar to assist with a national revision to the English curriculum -- so she had some amazing experiences that might be quite similar to things SLS students aspire to do.
Betsy was a Peace Corps volunteer in Uzbekistan from 1998 to 2000. She taught English at Bukhara State University and co-directed a regional English Club for high school and university students in the city. During the summers, she directed and taught at girls' leadership and English language camps in several regions.
Rickey was a Peace Corps volunteer in the Philippines from 2013 to 2014. He served as a teacher-librarian at the central elementary school of San Jose, Samar. He also led, participated in, and planned various teacher training programs throughout the island alongside fellow volunteers and local counterparts.
Although the Peace Corps is limited to American citizens, you may want to join the session even if you are not a US citizen – Stephanie, Betsy and Rickey are familiar with similar organizations in other countries, and may be able to help steer you toward those organizations.
Event Sponsor
Manoa International Education Week Committee, Mānoa Campus
More Information
8089566636, http://manoa.hawaii.edu/international/international_education_week
---