Location: Hamilton Library 1st floor
Phone: 956-0742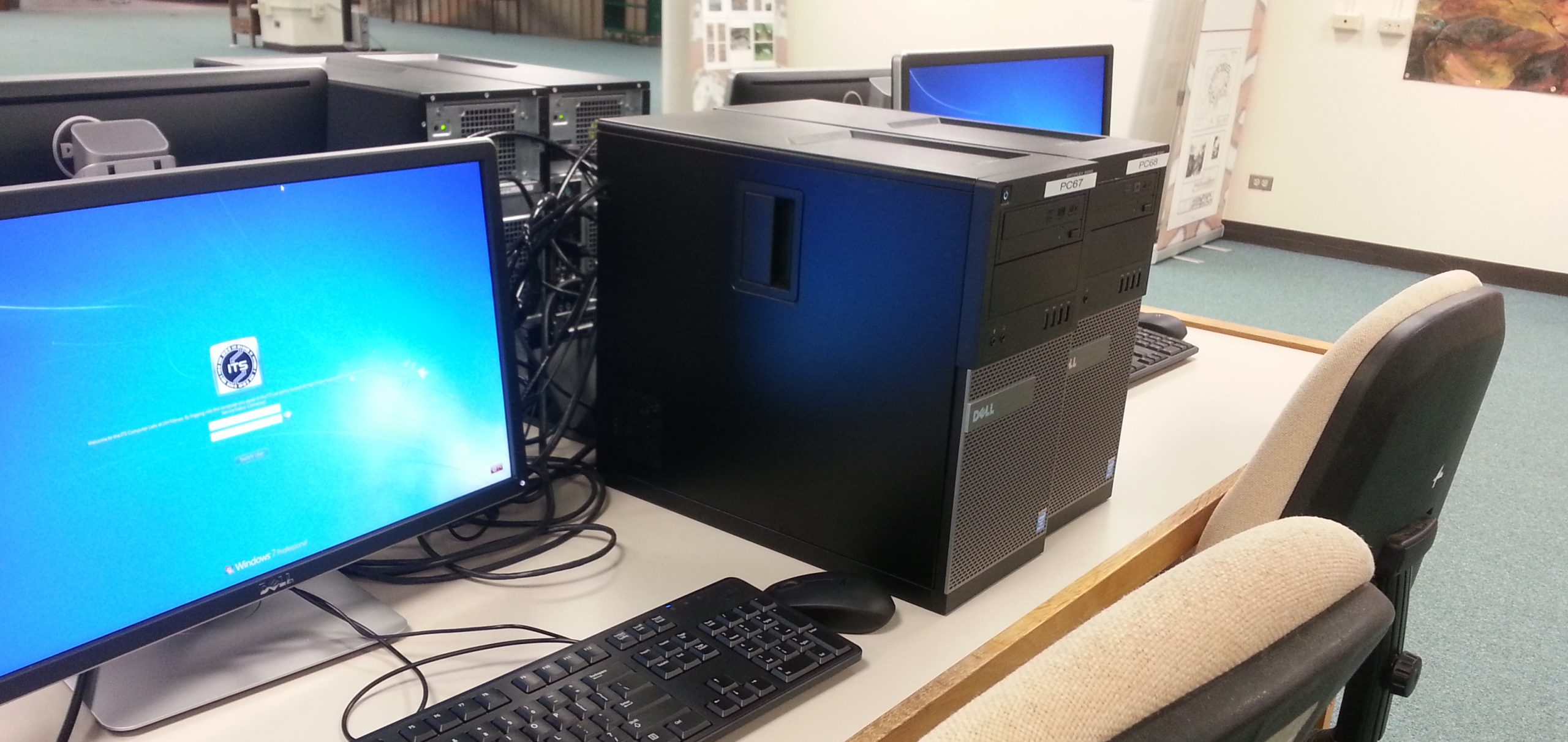 About
Hours of Operation
Available Computers
Services
Software & Hardware
Computer Lab Rules & Usage Policy
About
The Hamilton CLIC (Computerized Learning and Information Center) lab operated by ITS is a general use computer lab open for use by students, faculty, staff and other active affiliates of the University of Hawaii. Located on the first floor of the Hamilton library, this lab has over 75 computers for students, faculty, and staff to study, collaborate, print, and conduct online research.
The Hamilton CLIC lab is open during normal library hours. However, lab monitors are only available for technical assistance during the times posted on the Hours of Operation page. Information Technology Services (ITS) maintains this computer lab; any comments, suggestions, etc. should be directed to ITS Computer Lab Monitors or via the Feedback page. The Hamilton Library staff is NOT responsible for any troubleshooting or maintenance of equipment in this computer lab. If you encounter a problem during unsupported hours, please submit a report via our Feedback page or contact the ITS Help Desk at (808) 956-8883.
---
Services
Computers Currently Available:

29 Dell Optiplex 9020 - Windows 10
24 Dell Optiplex 5050 - Windows 10
25 Dell Optplex 5060 - Windows 10
1 Dell Optiplex 9020 Windows 10 Accessible Station

Printing (10 cents per page for black & white, 75 cents per page for color)

2 HP LaserJet M608 printers (accepts Mānoa OneCard or Campus Ca$h guest card)
1 HP LaserJet M608 printer (accepts cash)
1 HP Color LaserJet CP4025 (accepts Mānoa OneCard/Campus Ca$h guest card only)

UH Username Password Resets (with valid government issued photo ID (i.e. driver's license, state ID, or passport))
Wifi Available
2 Scanning Stations
---
Software
Microsoft Office 2016 Standard

Word, Excel, PowerPoint, Publisher and OneNote

Acrobat DC Pro
Hardware
Dell Optiplex 9020's:
Intel Core i5 3.16GHz
500GB Hard Drive
8GB RAM
DVD/RW Combo Drive
21″ Dell Flat Panel Display
Dell Optiplex 5050's:
Intel Core i5 3.4GHz
500GB Hard Drive
8GB RAM
DVD/RW Combo Drive
21″ Dell Flat Panel Display
Dell Optiplex 5060's:
Intel Core i5 4.1GHz
256GB SSD Hard Drive
8GB RAM
DVD/RW Combo Drive
21″ Dell Flat Panel Display
---
Computer Lab Rules & Usage Policy
By logging into the ITS Computer Lab computers, you agree to all ITS Lab rules and policies, as well as the Student Conduct Code and the Use and Management of Information Technology Resource Policy (E2.210). Any person found in violation of these rules and/or policies may have their lab privileges revoked, as well as a full or temporary suspension of their UH Username.
NO food or beverages are allowed in the ITS Labs.
Lab use is intended only for educational purposes or official University business. Commercial/political use of the lab equipment is strictly prohibited. You may be asked to leave the lab immediately if:

You are using a computer for non-educational purposes (ex: pornography, games, chat, instant messengers, social media, etc.)
You are using a computer in a manner which violates the student conduct code.

The Hamilton CLIC Lab is designated as a collaborative space, however, please keep loud conversations and disruptive behavior to a minimum. If disrupting others, you may be asked to leave the lab.
DO NOT bring any chairs from outside of the lab into the computer lab or take chairs to other locations of the library.
Personal belongings such as, bags, skateboards, etc., should be kept clear of any access aisles OR areas where they would present a hazard to lab patrons, staff, or equipment. Personal belongings should only be placed underneath the desk you are using.
Due to the limited number of workstations, patrons may use a single computer at a time
Cell phone use is permitted in the Hamilton CLIC Lab, however, please silence ringers and keep cell phone conversations as quiet as possible. If disrupting others, you may be asked to leave the lab.
DO NOT move the lab equipment and/or disconnect any cables
DO NOT change any of the computer settings or install any software.
It is illegal to copy or distribute software and its documentation without the permission of the copyright owner. If you are caught copying or downloading copyrighted software, legal action will be taken against you. Please refer to the following link for a complete list of copyright policies. http://www.hawaii.edu/askus.
Please remember to LOG OUT when you are finished, or if you will be leaving your computer unattended. If you leave the lab area, you are giving up your computer, and will have to wait in line if there is a waiting list when you return. No exceptions
You may NOT reserve a station for use.
We are not responsible for unattended items. Any unattended items will be handed over to the library's lost and found immediately.