Be a hero. Be a teacher.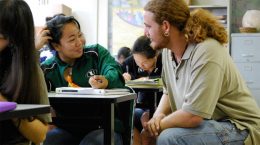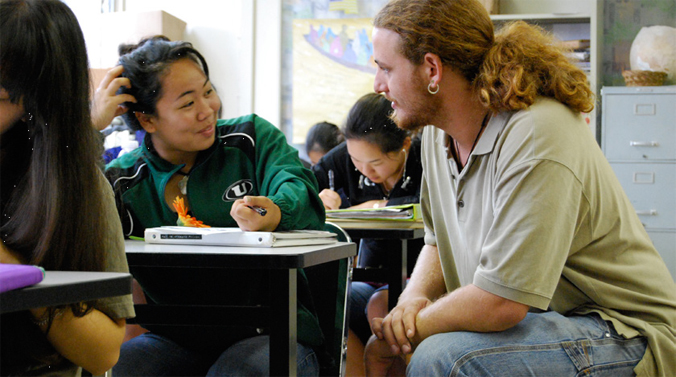 A simple message that the University of Hawaiʻi and the Hawaiʻi Department of Education (HIDOE) wants heard across the state in an effort to address Hawaiʻi's teacher shortage. UH and HIDOE are committing about $100,000 for a television and digital advertising campaign to promote that message on Hawaiʻi News Now (HNN).
"Be a hero. Be a teacher." is a media campaign designed to inspire high school and college students and working professionals to consider a career in education by highlighting the benefits and rewards of being a teacher. Consisting of a 30 second Public Service Announcement version, a two-and-a-half minute slam poetry video—written and performed by a teacher—and a website, the campaign is among a number of steps being taken by UH and HIDOE to address the state's teacher shortage. The shortage has grown from 300-plus vacancies statewide in 2013, to more than 550 in fall 2018.
Central to "Be a hero. Be a teacher." is a web portal that helps students explore various teacher credentialing options available at four UH campuses—UH Mānoa, UH Hilo (School of Education and Kahuawaiola Teacher Education Program), UH West Oʻahu and Leeward Community College. These campuses participated in the development of the campaign, which was produced by Kai Media and coordinated by the UH Office of Academic Planning and Policy.
Set to run through March 2019, the HNN advertisement campaign will culminate with a "My Teacher is a Hero" Facebook contest. It also includes segments on HINow, which airs during the morning on HNN. The first HINow segment featured UH President David Lassner and HIDOE Superintendent Christina Kishimoto discussing the teacher shortage and the "Be a hero. Be a teacher." campaign.
For more information, go to the "Be a hero. Be a teacher." website.