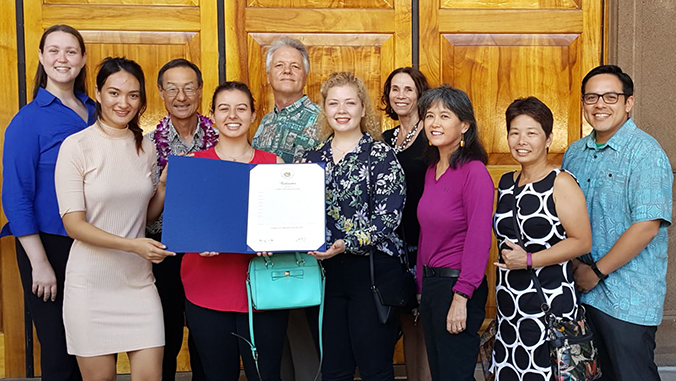 In honor of Conflict Resolution Day on October 18, University of Hawaiʻi at Mānoa students, alumni, faculty and staff gathered at the Hawaiʻi State Capitol for proclamation signings by Governor David Ige and Honolulu Mayor Kirk Caldwell.
The proclamations recognized the benefits of peaceful, alternative dispute resolution processes and the work being done by Hawaiʻi's public, private and non-profit organizations. Resolving differences in an inclusive, collaborative way empowers individuals as well as communities to bring together diverse voices and improve decision-making processes.
Attending the event were Matsunaga Institute for Peace and Conflict Resolution's Kathryn Ranney, Sky Kau'ilani Chun-Matsukawa, Joana Marcos Garcia, Miriam Robertson, Tracey Wiltgen and José Barzola; UH Mānoa alumni Owen Tamamoto, Robert Lillis and Lisa Nakao; and Hawaiʻi attorney Lisa Jacobs.
Conflict Resolution Day is celebrated every third Thursday in October and was established by the Association for Conflict Resolution to:
Promote awareness of mediation, arbitration, conciliation and other creative, peaceful means of resolving conflict;
Promote the use of conflict resolution in schools, families, businesses, communities, governments and the legal system;
Recognize the significant contributions of (peaceful) conflict resolvers; and
Obtain national synergy by having celebrations happen across the country and around the world on the same day.