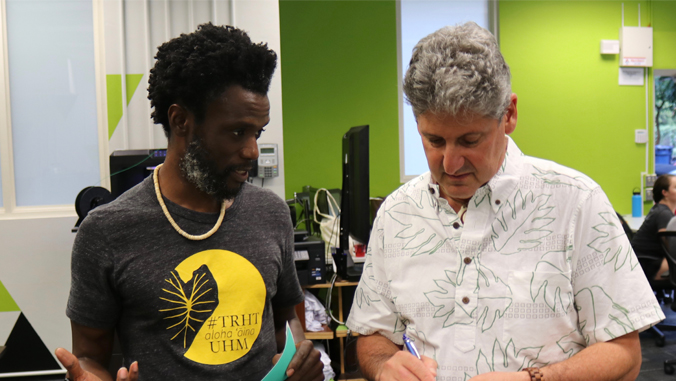 The University of Hawaiʻi at Mānoa is one of only 10 campuses across Hawaiʻi and the U.S. continent to be awarded funding by the W.K. Kellogg Foundation and Newman's Own to advance Truth, Racial Healing and Transformation (TRHT). There were 125 college and university applicants.
TRHT is a comprehensive national and community-based process for transformational and sustainable change, with the goal of addressing historic and contemporary effects of racism. The multi-year initiative will educate, prepare and inspire the next generation of leaders to advance justice and build equitable communities.
Members of the UH Mānoa campus community and other stakeholders gathered on November 2 to learn more about the TRHT movement and help launch the campus TRHT initiative.
Kaiwipuni Lipe, UH Mānoa Native Hawaiian affairs program officer and principal investigator on the TRHT grant, explained the significant focus on aloha ʻāina. "The W.K. Kellogg Foundation asked us what our community will look like when racism has been jettisoned. We responded by saying that we will be a community in which everyone understands and embraces their kuleana—their rights, responsibilities and privileges—to care for one another and our natural environments. We are viewing aloha ʻāina in this holistic sense, applying to people as well as land.
"The construct of race has limited our ability to truly see who we are and has separated us from one another and from what our island earth so desperately needs from us. In order to heal and transform, we need to not only uncover shared truths but also to find constructs and world views that can help us all connect to one another regardless of our race or background. Aloha ʻāina can help us do that and is the essence of Hawaiʻi and the core of what it means to be a Native Hawaiian place of learning."
The TRHT lead team is comprised of a diverse group of graduate students, staff, faculty and administrators. They have developed an approach to understanding genealogies of self and place as mechanisms to examine, explore and discover each person's own kuleana to aloha ʻāina. The first TRHT cohort for students and community members will commence in February 2019, followed by cohorts for staff and faculty, and another for administrators in summer and fall 2019.
"Campuses throughout the nation are facing new challenges to providing welcoming and compassionate environments for all, while respecting everyone's freedom of expression," said UH Mānoa Interim Chancellor David Lassner. "I look forward to the work of the TRHT team in bringing us new ways to address these challenges by thoughtfully bringing traditional Hawaiian values to our entire community, starting with aloha and aloha ʻāina."
Request more information at the TRHT website.