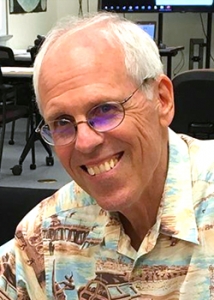 A researcher emeritus with the Hawaiʻi Institute of Geophysics and Planetology (HIGP) in the School of Ocean and Earth Science and Technology (SOEST) at the University of Hawaiʻi at Mānoa has been appointed to the science advisory board for the Blue Origin lunar lander, called Blue Moon.
Board membership was revealed during a press conference by Blue Origin founder Jeff Bezos on May 9 at the Walter E. Washington Convention Center in Washington, D.C.
Jeff Taylor of HIGP will join five other scientists on the advisory board. They are Harrison "Jack" Schmitt (Apollo 17 astronaut, geologist); Steve Squyres (professor of astronomy, Cornell University); Bradley Jolliff (Scott Rudolph professor of earth and planetary sciences, Washington University); Dean Eppler (former geologist and field tester of experimental spacesuits, Johnson Space Center); and Ryan Watkins (research scientist, Planetary Science Institute).
The board provides feedback to the Blue Moon team about lunar surface composition and material properties, sampling strategies, lander design, landing site selection, lunar science goals and resource exploration.
"Serving on this advisory board and working with Blue Moon is one of the most exciting opportunities I have had," said Taylor. "The Blue Moon project is the beginning of the second stage of human exploration of the Moon, and the one I hope leads to permanent settlement."
For the full story, see the SOEST website.
—Written by Linda Martell