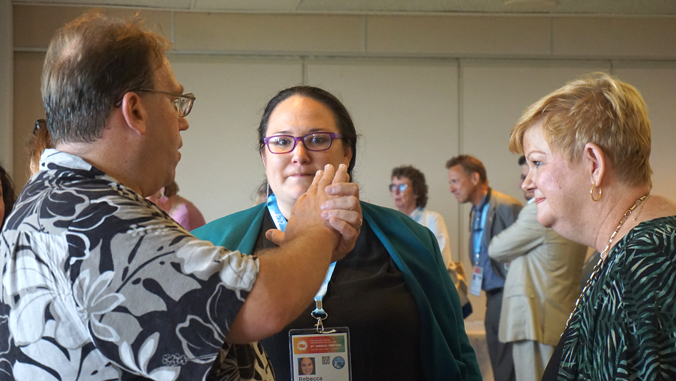 Hawaiʻi hosted the 87th U.S. Conference of Mayors at the end of June, when more than 220 mayors gathered to discuss ideas to improve their cities and the lives of people in their communities. Topics discussed at the conference included homelessness and housing, challenges in immigration, the recycling crisis, renewable energy, cyber security and more.
The delegates participated in breakout sessions to learn, exchange and borrow ideas to help remedy their shared concerns. Kapiʻolani Community College was the only campus in higher education that was invited to present a Best Practices session on its apprenticeship program and how it could address employee shortages.
Stan Fichtman, program manager for Kapiʻolani CC's Apprenticeship USA State Expansion Grant, and Sally Pestana, Kapiʻolani CC's health apprenticeship director, showcased the college's growth of health and culinary apprenticeship programs.
The Kapiʻolani CC apprenticeship programs have gained tremendous traction through industry partnerships. Apprenticeships are a viable solution given current workforce challenges such as worker shortages, increasing demand for services and training, and recruiting and retaining qualified staff.
Pestana shared insights in working with government and industry. "Apprenticeship is a winning workforce development business strategy for employers with a strong return on investment: $1.50 for every $1 invested with a range of benefits from reduced turnover to greater productivity from apprentices," said Pestana.
She added that relating technical instruction with on-the-job training is what apprenticeships are all about. Understanding the needs of the real world is knowing how to make inroads for training and solutions possible.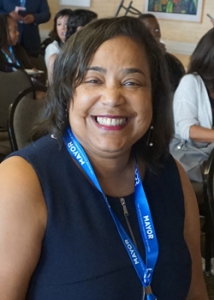 Bill Bruhl, Duke's Waikiki executive chef, and Ashley Shearer, clinical operations manager of Queen's Care Coalition of Queen's Medical Center, told delegates how the partnerships have been a win-win relationship for the employer, the employee and the state.
The moderator for the breakout session was Tacoma Mayor Victoria Woodards, who said that mayors are known to return to their cities with ideas that work and she is sure apprenticeship programs and opportunities will be seriously explored.
Added Conference President Steve Benjamin, mayor of Columbia, South Carolina, "Mayors are tackling issues of national importance because our voices are needed more than ever. We can't just sit on the sidelines. We have to be the drivers of the change that our constituents expect and deserve."
Read more about other UH apprenticeship programs.
—By Louise Yamamoto