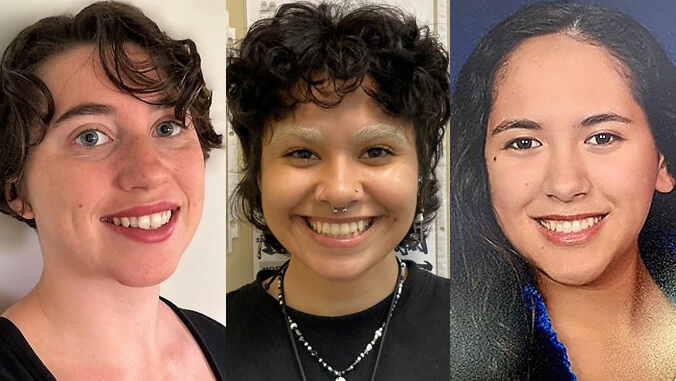 Educators and students from around the world gathered at the University of Hawaiʻi at Hilo for the second annual Hawaiʻi-International Conference on English Language and Literature Studies, held March 10–11. Several UH Hilo English students were able to present their research papers at the conference.
"The environment was very professional, as well as very welcoming," said Kyla-Marie Turner, a senior double majoring in English and anthropology. "To be able to not only present my work on the subtypes of literature in Hawaiʻi, but to also learn about the amazing research and studies being done on language acquisition, [multiculturalism and multilingualism education], among other topics, was very eye-opening."
Turner presented her paper "Looking Past the Covers: Exploring the Three Subtypes of Hawaiʻi's Literature," which focuses on the effects of this literature outside the literary world.
This year's theme was "Research and Teaching in English Language and Literature." Presenters represented nations including Japan, Poland, Italy and the Philippines, and scholars shared their expertise with peers and students, including new trends in research and teaching.
"I felt very engaged as a listener and attendee," said Elena "Lennie" Espinoza, an English major who is also working toward a Teaching English as a Second Language certificate. "It felt like a collaborative space, and I could tell that everyone there was engaged with the topics being discussed. I really enjoyed the Q&A sections of each presentation, and…felt like questions and conversation specifically were encouraged and supported."
Espinoza presented their paper "The Knowledge of the Past," which focuses on the role of mythology in Indigenous education prior to Western contact.
The conference also featured presentations by UH Hilo faculty and community members, and sessions were chaired by student and community volunteers. For both presenters and audience members, the conference offered valuable opportunities to connect, learn and network.
"It was a really fun and helpful event to be a part of, especially as an undergrad," said Espinoza. "I was able to learn what academics and educators are doing around the world regarding language and literature. Very inspiring."
The next conference will be hosted in Davao City, Philippines in spring 2024.
Read more at UH Hilo Stories.
—By Evangeline Lemieux