NASA has awarded a contract to the University of Hawaiʻi Institute for Astronomy (IfA) to continue to manage and operate the agency's Infrared Telescope Facility (IRTF) on Maunakea.
The new contract took effect July 1 with a one-year base period, followed by four one-year options. If all options are exercised, the potential value of the contract is approximately $30 million. About 30 IfA researchers and staff based in Hilo and Honolulu are involved in supporting the IRTF, which started operations 40 years ago this month.
"This significant commitment by NASA demonstrates the value of its Infrared Telescope Facility to the agency and its overall mission," said IfA's John Rayner, IRTF director. "It is also an affirmation of the great work by IfA personnel and the Hawaiʻi Island community. It is an honor to work with NASA and we look forward to many more years of collaboration."
The NASA IRTF is a 3-meter telescope optimized for infrared observations that sits at an altitude of 13,800 feet (approximately 4,206 meters) on Maunakea. Originally built to support NASA's Voyager missions to the outer planets, it has continued to provide observations to support NASA spacecraft missions, mission planning and science objectives. The observing time is openly competed for, with proposals solicited from the entire astronomical community. About half of the observing time is reserved for objects within the solar system and the remainder is open for general astrophysics.
Searching for near Earth objects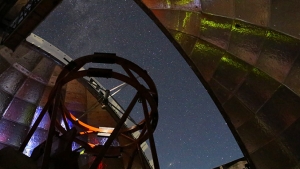 NASA's funding for the telescope comes from the Near-Earth Object Observations (NEOO) Program in the Planetary Defense Coordination Office (PDCO) of NASA's Science Mission Directorate in Washington, D.C. IRTF is a primary asset for NASA's PDCO to characterize near-Earth objects (NEOs)—asteroids and comets that enter Earth's neighborhood and may pose an impact hazard. Measuring the physical characteristics of NEOs is important for assessing any potential impact damage should an impact be predicted or for designing any potential asteroid deflection mission.
"IfA personnel have developed a very flexible operating mode for IRTF over the years that has been important for optimizing solar system observations in general and for NEO observations in particular," said NASA's Kelly Fast, manager of the NEOO Program. "The ability to track fast-moving asteroids and to rapidly observe important new asteroid discoveries is critical for NASA's planetary defense efforts."
IRTF played a major role in studying an unusual celestial phenomenon 25 years ago this month. The Maunakea telescope was home base for NASA's ground-based observations of the first collision between a comet and a planet ever witnessed. From July 16 to 22, 1994, pieces of the comet Shoemaker-Levy 9, discovered just a year prior, crashed into Jupiter and lofted superheated plumes into its stratosphere, creating huge, dark "scars" in the planet's atmosphere. NASA's IRTF was a key player for studying the temperature and composition of those plumes and impact effects, and now continues its mission of studying spacecraft targets and important phenomena both inside and outside the solar system.