University of Hawaiʻi astronomer Shadia Rifai Habbal travels the globe to capture total solar eclipses—when the Sun, Moon and Earth align, a phenomenon that has captivated humans for centuries. Now the award-winning astronomy professor's quest to hunt down solar eclipses is at the center of children's book, Eclipse Chaser: Science in the Moon's Shadow.
"I hope they are inspired by the secrets and magic of our own Sun, and that scientific research is fantastic and great fun," said Habbal.
Written by Ilima Loomis of Hawaiʻi, the book takes readers on a journey as Habbal and her team of international scientists chase the 2017 solar eclipse, the first to cross North America since 1918.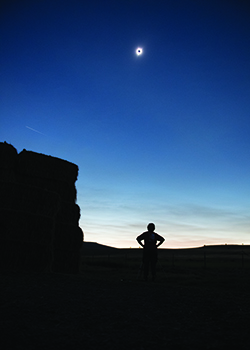 "Dr. Habbal is a boundary-pushing scientist with an adventurous job. She's traveled around the world to remote locations and extreme environments to observe and study eclipses. I knew she would be a fantastic subject for a book," Loomis said.
Habbal's team of international scientists was scattered across five sites in the U.S., and she was based in Mitchell, Oregon. This journey marked the 15th eclipse from which she has collected data since 1995.
"By observing from multiple sites across 1200 miles with the same instrumentation, we were able to discover that the corona went through measurable changes in temperature distribution and density as a result of a large disturbance, which solar physicists call a coronal mass ejection," Habbal said.
According to Loomis, the book highlights the science behind eclipses and how solar wind and storms can have big effects on the planet, even disrupting technology. The book is geared toward children ages nine–14. And is the latest in Houghton Mifflin Harcourt's award-winning "Scientists in the Field" series. Its the first in the series to cover solar physics.