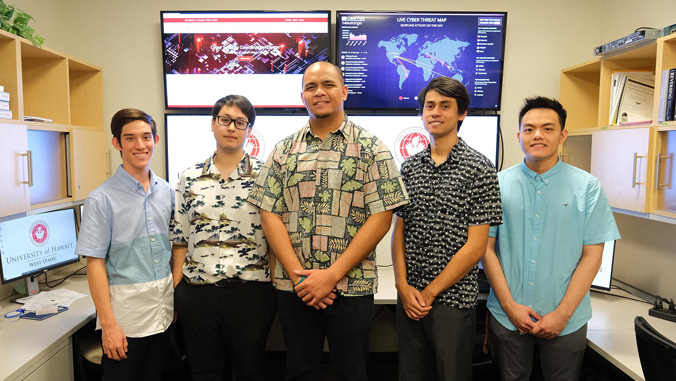 Leadership from the National Security Agency Hawaiʻi visited the University of Hawaiʻi–West Oʻahu Cyber Security Coordination Center (CSCC) in February bolstering the partnership between the university and intelligence organization.
NSA Hawaiʻi officials were invited to CSCC to attend a weekly update, featuring presentations by the center's five student interns: Global Cyber Analyst Jarren Buendia, Cyber Vulnerabilities Analyst Warren Domingo, Cybersecurity Best Practices Analyst Guy Nguyen-Phuoc, Digital Forensics Analyst Brandon Chun and Cybersecurity of Industrial Control Systems Analyst Edgar Namoca.
"The cybersecurity program within the business division at the University of Hawaiʻi—West Oʻahu has built a strong relationship with NSA Hawaiʻi since the program earned designation by the National Security Agency and Department of Homeland Security as a National Center of Academic Excellence in Cyber Defense Education in 2016," said Matthew A. Chapman, UH West Oʻahu professor of computer science and cybersecurity and head of the campusʻ cybersecurity program. UH West Oʻahu was the first four-year university in the state to achieve this.
Both NSA Hawaiʻi and UH West Oʻahu have a shared goal to grow the cyber workforce in Hawaiʻi to protect our state and national interests, specifically the protection of our critical infrastructure, Chapman said.
"This partnership benefits our students with summer internships, our graduates with jobs, and our state with a local, highly technical, cybersecurity workforce that best understands our unique culture and the unique cybersecurity challenges in Hawaiʻi," said Chapman, adding that these students twice won the National Championship (2016 and 2018) in the National Cyber League against both undergraduate and graduate students across the United States.
"Our partnership also benefits both military and civilian employees of NSA Hawaiʻi who enroll in our cybersecurity programs to complete their bachelor's degree or complete individual courses to increase their technical and cyber skills," he said.
For the full story, visit the E Kamakani Hou.
—By Zenaida Serrano Arvman