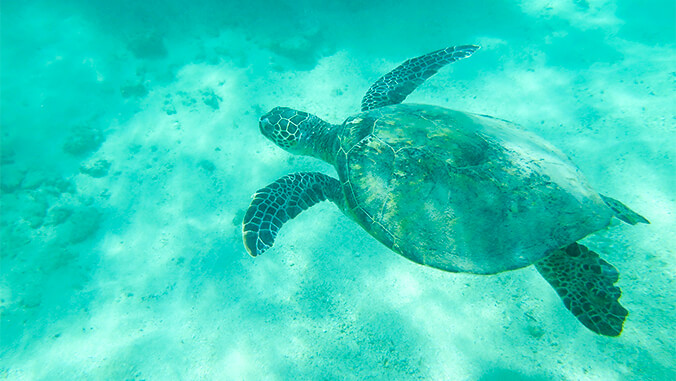 Since March, Hanauma Bay has been closed to the public in response to the COVID-19 pandemic. During this time, University of Hawaiʻi at Mānoa researchers have discovered that the water clarity at Hawaiʻi's famous snorkeling beach has significantly improved in comparison to open days and weekly closures every Tuesday, before the COVID-19 pandemic began.
On average, UH researchers found that the water in Hanauma Bay was 42 percent clearer during the COVID-19 closure than on a day open to the public, and 18 percent clearer during the COVID-19 closure than on Tuesdays, when the beach is closed to the public.
UH researchers gathered results by measuring water clarity approximately once a week from April 21 to June 16. They will continue to measure water clarity weekly at Hanauma Bay for the duration of the closure.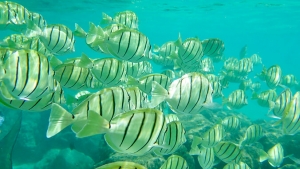 "I was surprised that the preliminary data showed that the water was clearer during the COVID-19 closure when compared to closed Tuesdays," said Sarah Severino, a research assistant at UH Mānoa's Hawaiʻi Institute of Marine Biology. "I was under the impression that the sediment and sand that gets kicked up by visitors would be deposited back to the seafloor by the next day, but it appears that the finer sediment may still be suspended in the water column the day after visitors are present. What we could be seeing during this closure is the lack of sand/sediment resuspension for an extended period of time leading to increases in overall water clarity."
Data collection
UH researchers used the secchi disk method to collect data, which is a visual representation of water clarity. The method is conducted with two people using a measuring tape that is attached to a large white disk. One person holds the disk underwater while the other person swims away, while watching for the white disk to disappear. They record the distance from the disk when it disappears from eyesight. Then they turn around and start swimming toward the disk, and record the distance when they can see the disk again. This method is done at each site getting a total of four measurements at each location.
During the closure, UH researchers have also been collecting data on fish behavior, fish foraging rates, and coral growth and recruitment. During this time, they have been noting the presence of monk seals and turtles in Hanauma Bay. All of the surveys will continue with the recommencement of visitors to detect if there are changes in the biological communities in response to visitors.
—By Sarah Hendrix