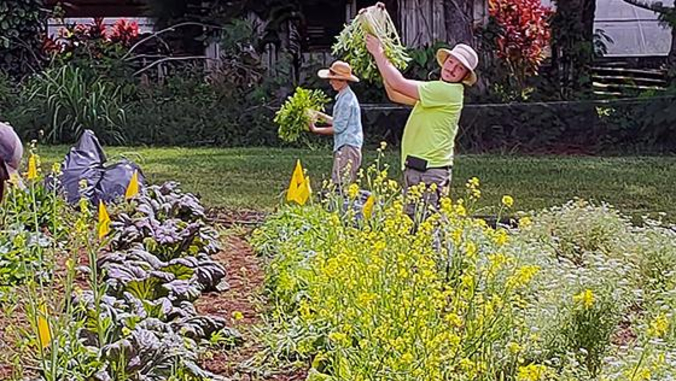 The Kauaʻi community has a long history of helping one another, and the University of Hawaiʻi at Mānoa's College of Tropical Agriculture and Human Resources (CTAHR) contributes to that community support.
CTAHR's Kauaʻi Cooperative Extension recently donated 556 pounds of vegetables to the Hawaii Foodbank. The harvest was shared with more than 250 Kauaʻi households as part of a community distribution event on July 21.
The vegetables were grown at the Kauaʻi Agricultural Research & Extension Center by assistant extension agents James Keach and Emilie Kirk with the help of agricultural technicians Andrew Ehlert and Michael Carle. The field space had originally been planned as a demonstration and trial garden for the Kauaʻi Master Gardener program.
"We're so glad we can provide these vegetables to the community during these uncertain times, and we hope the trials will also provide useful info for local folks getting into gardening," Keach said.
Selections of the best plants from the trial garden will also be used to produce more seed, as a part of a new statewide Seed Saving initiative in which Keach and Kirk are involved.