After a fulfilling career in research, medicine and university administration, Virginia Hinshaw is giving her white coat the hook. Hinshaw retired June 30 after 13 years with the University of Hawaiʻi at Mānoa.
Hinshaw served as chancellor from 2007 to 2012, and as chancellor emeritus and professor of tropical medicine, medical microbiology and pharmacology at the John A. Burns School of Medicine (JABSOM), for the past eight years.
Many know her as tireless, involved and interested. Words such as: can't, don't, won't, are unfamiliar to her, and she has helped many medical students eliminate those words from their lives as well.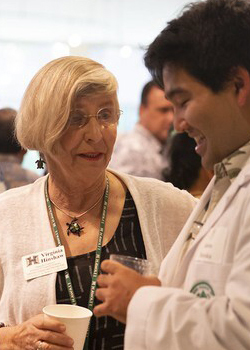 "I have worked in hospitals, institutes and universities. All have been fulfilling in different ways," Hinshaw said. "I have been fortunate to have two careers—in science and in university administration—both providing many opportunities to learn and to facilitate the success of others. I have enjoyed both my personal life and my professional life—as a mentor, I often tell folks that they are not mutually exclusive."
At eight years old, Hinshaw was determined to be a microbiologist. She credits her parents who fully supported her in her pursuit. She also credits a professor who challenged and inspired her.
"My major professor Dr. Emilio Mora had great confidence in me, which helped me believe in myself. Also, as a woman in science, I was a minority, but so was Dr. Mora. I believe his positive approach to dealing with that challenge inspired and enabled me to deal with similar challenges," she said.
There were two things in her career Hinshaw said that changed her. While working at St. Jude Children's Research Hospital, she took a sabbatical at Harvard Medical School.
"That was a great experience and led to my returning to universities to continue my career," she said.
As a faculty member at the University of Wisconsin-Madison (UW), then UW Chancellor Donna Shalala—another of Hinshaw's mentors—appointed her to the UW Athletic Board.
"I found that I really enjoyed the opportunity to work with the broader community and the chance to focus on addressing important campus issues," she said. "That experience led me to enter university administration."
The Dr. Rosita Leong Mini-Medical School on Healthy Aging for seniors was one of several ways Hinshaw and JABSOM fulfilled a community need for an often sidelined segment of society.
"Our theme 'Seniors Rock,' and strengthening our connections with the public—both were my goals when I started the program," Hinshaw said.
Typically, Hinshaw undertakes projects for five to seven years, and then, she is eager to learn something new.
"I have offered to teach, mentor and encourage philanthropy for the university, since I enjoy those and believe it is important to be purposeful," Hinshaw added. "I will continue with boards on which I serve, and I am considering other ways to contribute to the community. There is so much that needs to be done."
For more on Hinshaw, see the JABSOM website.
—By Paula Bender