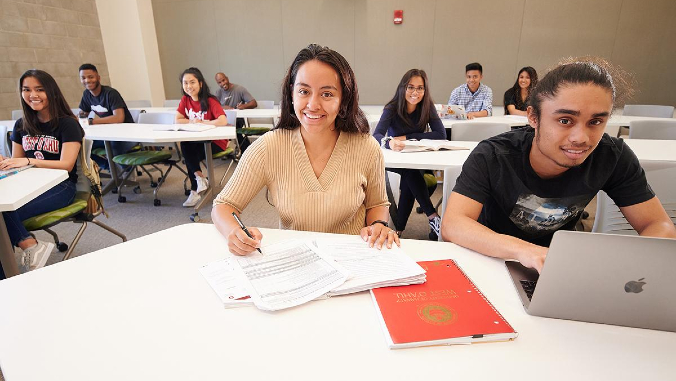 The majority of seniors at the University of Hawaiʻi–West Oʻahu reported positive experiences in areas related to knowledge acquisition and personal development, in a survey administered in spring 2020. Also, a majority of students rated their educational experience at UH West Oʻahu as "excellent" or "good," indicating they would attend again.
These are among the positive takeaways of the recently released results of the National Survey of Student Engagement (NSSE) 2020. UH West Oʻahu distributed the survey to all freshmen and seniors, with a total of 88 and 328 responses, respectively, for those groups.
"Since its inception 20 years ago, the NSSE has become one of the most widely used student surveys in higher education," said UH West Oʻahu Institutional Research Office Director John Stanley. "Hundreds of four-year colleges and universities administer NSSE every year in order to collect information about students' participation in programs and activities that institutions provide for their learning and personal development."
The results provide an estimate of how undergraduates spend their time and what they gain from attending college, Stanley said.
"The NSSE is an important survey for UH West Oʻahu because it enables us to assess the extent to which we are providing our students with the educational experiences necessary to achieve our university learning outcomes by the time they graduate," he said. "It also provides us with essential information for our reaccreditation by the WASC Senior College and University Commission."
A total of 1,580 surveys were distributed for a response rate of 26 percent, just below the average of 28 percent for institutions that are similar in size. UH West Oʻahu's NSSE 2020 Snapshot provides a concise and easy-to-digest four-page summary of key results (PDF).
"We administered additional survey modules on 'Inclusiveness and Engagement with Diversity' and 'Learning with Technology,' two strategic areas in our institutional mission that we are beginning to examine more closely," Stanley said. "In an effort to offer a comprehensive synthesis of the results, we are working on a research brief that will include an executive summary and deeper dive into the data analysis."