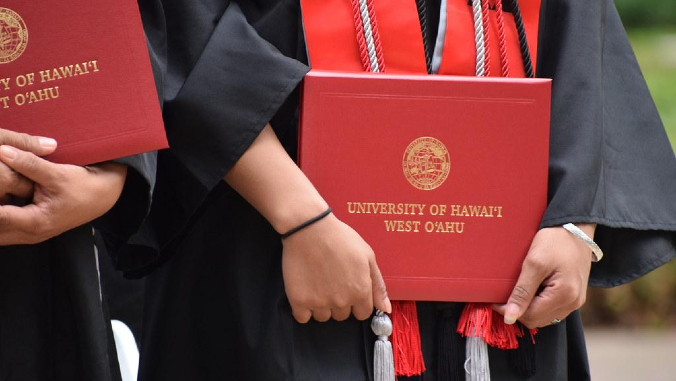 The University of Hawaiʻi–West Oʻahu is conducting a virtual commencement to honor all 2020 graduates, replacing the traditional ceremony due to the COVID-19 pandemic.
Given state and county restrictions, the campus will forgo its in-person commencement ceremony in a decision made by campus leadership following a recommendation by the campus commencement committee. Instead, it will debut a virtual ceremony on Saturday, December 12, 2020. All spring, summer and fall 2020 graduates will be featured in the online ceremony, a recording of which will be made available at a later date.
"Graduation is a time for students to celebrate the accomplishments achieved during their time here at UH West Oʻahu, and we are disappointed that we cannot do so in a manner fitting of this accomplishment," Chancellor Maenette Benham said.
Approximately 700 students will receive their degrees from UH West Oʻahu in 2020. UH West Oʻahu graduated 371 in the spring, its highest number to date. The spring ceremony was also canceled due to the pandemic. Students will still be able to officially graduate as long as they have completed their degree requirements.
"I must commend the fortitude of our campus community for all you've endured in these times," Benham said. "I appreciate your efforts throughout the transition to online learning and working. Please know how saddened I am that we will not be able to celebrate with family, friends and loved ones in person."
Visit the UH West Oʻahu commencement website for the latest information.