University of Hawaiʻi at Mānoa student Nathan Bek is seizing opportunities and using his success to empower fellow peers.
The junior finance and journalism major served as Hawaiʻi Student Entrepreneurs president, a Ka Leo O Hawaiʻi writer, Hawaii Business Magazine intern and the CEO of Green Dream, a family business in Waiʻanae. Then in February 2020, Bek took on another managerial role—CEO of Lucy's Lab Creamery, an emerging locally-owned ice cream shop in Kakaʻako.
"UH prepared me for the rigor and also the responsibility of the position," Bek said. "It's been very volatile and up-and-down. There's good weeks and there's bad weeks. There was a lot of anxiety. But as a bunch of students and as someone trying to learn management, I'm trying to change that to urgency in a good way. In a startup culture that we're trying to create, that's a good thing, with the pandemic and with everything changing so quickly."
The start of Lucy's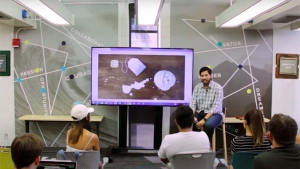 Lee Wang, a Shidler College of Business MBA graduate, started Lucy's Lab Creamery in 2014 as a tribute to his mother. In 2007, Lucy was diagnosed with breast cancer. For five years, she fought hard enduring chemotherapy, radiation, transfusions and doctors' visits before losing her battle at the age of 53.
Wang combined his entrepreneurial spirit with a desire to honor her memory and started a business that can incorporate both. Since its opening, the business has donated a portion of its proceeds to support breast cancer research.
For about six years, Wang's business gained popularity in Hawaiʻi. Then in early 2020, Wang wanted to pursue other opportunities. That's when he met with Bek and his Hawaiʻi Student Entrepreneurs team about managing the business for him.
"When I felt like there was not a lot more to learn from the business, I felt like the best and highest use I could have gotten out of the business was to give it to somebody that could learn the same lessons that I learned and take it to the next level," Wang said. "I watch them and I see them going through the same things that I went through when I was first starting and that's what makes it easy to let go."
Taking over the reigns
Bek and three other UH Mānoa students Peter Hessler, Iman Ahmad Fauzi and Lian Huang took over managing Lucy's Lab Creamery before COVID-19 began impacting the state. Bek said that while he needed to learn the ins and outs of the business, he needed to quickly adapt and make changes based on the evolving COVID-19 situation. His team has made modifications including reducing shop operating hours and shifting resources to a delivery service to most parts of Oʻahu.
Bek credited a lot of the team's success to the support and advice from Kakaʻako business owners; his father, who is a UH Mānoa alumnus and spent many years in the restaurant industry; and Wang for allowing his team to learn through challenges.
"We talk to each other like every day," Bek said. "He's really smart and really experienced so he gives me a ton of advice and a ton of autonomy as well to make my own decisions. He's been really generous with allowing us to fail. There have been a lot of times that we got really excited about a project or we put a lot of time and money into something and it just doesn't work, but he's been very generous when recognizing those failures, helping us learn from them and helping us stay motivated to try something new."
Wang said, "The most rewarding part for me has been able to watch them grow from students to actual business people."
Dishing the scoop
When Wang began Lucy's Lab Creamery, he made it a goal to provide students with internship opportunities through all aspects of the business, from finances to marketing to creating new ice cream flavors. Right now, the team has about a dozen interns working under the guidance of the management team.
"Here, it's a small business, but it's more of the key decision making that they are a part of that they can really say they had a direct hand in the direction of the business," Wang said. "In many other internships, you don't have that same dynamic."
Bek, at the age of 20 with a diverse set of experiences, encouraged students to get involved with opportunities that may come their way and pursue their passion.
"Jump on a lot of opportunities and just know that if you take on a lot that there are going to be a lot of ups and a lot of downs," Bek said.
—By Marc Arakaki