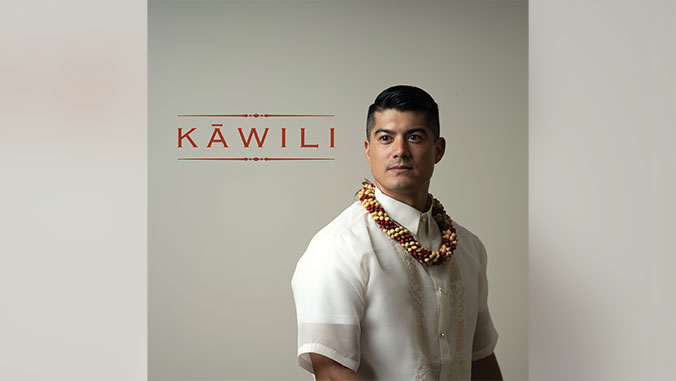 All proceeds from a new musical album produced by University of Hawaiʻi at Mānoa alumni will benefit two UH Mānoa programs.
Kāwili, by Lance Collins and Zachary Lum, features 11 Filipino folk songs translated into ʻōlelo Hawaiʻi and two Hawaiian songs sung in Ilokano. Proceeds will benefit the Refugee and Immigration Law Clinic in the William S. Richardson School of Law, and the Ilokano Language and Literature Program in the College of Arts, Languages and Letters.
Collins, an attorney on Maui, earned five degrees from UH—his last was a PhD in political science in 2010. Lum, a founding member of the Nā Hōkū Hanohano Award-winning group Keauhou, earned his bachelor's and master's degrees from UH Mānoa, and is currently pursuing his PhD in political science.
"The goal of the project is to think of the futures of Hawaiʻi that aren't necessarily mediated by the American experience and aren't necessarily limited to plantation narratives, which is basically a derivative from the American story in Hawaiʻi," Collins said. "The idea was to think of alternative futures where people who come to Hawaiʻi interact with the Hawaiian culture and language without the racial hierarchies or the mediating influence of Americanisms."
Supporting UH programs
The Kāwili project was funded by the Hawaiʻi Institute for Philippine Studies, a local non-profit. The group selected the Refugee and Immigration Law Clinic and Ilokano Language and Literature Program because of their purposes to help others and to "take what people see as boundaries and use them as bridges."
"The Refugee and Immigration Law Clinic provides law students with the opportunity to work on real cases on behalf of low-income immigrants in our Hawaiʻi community," said John Egan, Refugee and Immigration Law Clinic's director. "The funds will provide students with up-to-date research materials and texts needed to aid their clients in Immigration Court and in the green card process. This creative project will make listeners smile, and makes a real contribution to immigrant justice at the same time."
"The concept of the album is brilliant! Hearing popular Filipino folks songs (in Ilokano, Tagalog and Visayan) sung in Hawaiian mele and two well-known Hawaiian mele sung in Ilokano literally gave me goosebumps," said Dean Domingo, Ilokano Language and Literature Program coordinator. "The proceeds will benefit the Ilokano Language and Literature Program by helping the program on its mission and growth to preserve the Ilokano language, literature and culture; and providing scholarships to students in their pursuit of higher education."
The project's beginning
The project started more than a decade ago when Collins and retired UH Mānoa professor Lilia Quindoza Santiago translated Aloha ʻOe into Ilokano, and the piece was performed by some members of the program. Collins also drew inspiration from Teresa Bright's Hawaiinawa, an album that features popular Okinawan songs translated into ʻōlelo Hawaiʻi.
After a few unsuccessful attempts to see the Kāwili project through, Collins used his involvement in the Lei Nahonoapiʻilani: Songs of West Maui album with Lum and his brother, Nicholas Lum, a UH Mānoa graduate and current PhD student at UH Hilo's Ka Haka ʻUla O Keʻelikōlani College of Hawaiian Language, to kickstart the project. The Lum brothers completed translating the Filipino folk songs into ʻōlelo Hawaiʻi in 2019 and the Kāwili album was ready to be recorded. Domingo recruited UH Mānoa students and alumni for the Ilokano pieces, and Zachary Lum took the lead in recruiting performers for the other 11 songs.
To purchase the album, go to go Mele.com.
—By Marc Arakaki
This effort is an example of UH Mānoa's goal of Enhancing Student Success (PDF), one of four goals identified in the 2015–25 Strategic Plan (PDF), updated in December 2020.