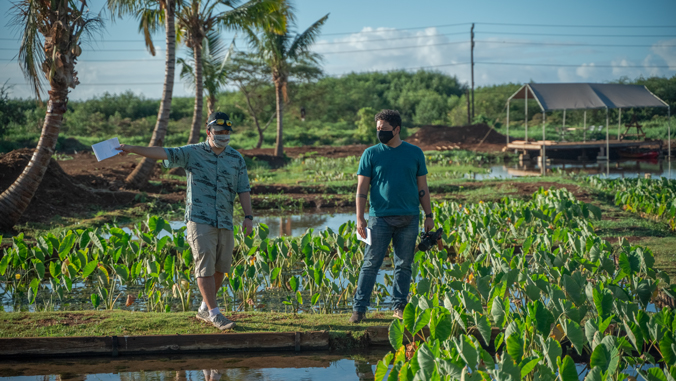 A film highlighting a Native Hawaiian man's battle to teach the kānaka maoli culture will make its international debut. ʻOnipaʻa by University of Hawaiʻi at Mānoa Academy for Creative Media senior Dyllon Ching is one of several short films selected to be showcased at the Māoriland Film Festival in New Zealand.
ʻOnipaʻa is about a kalo (taro) farmer who wants to pass down his kānaka maoli culture and teachings to his son. However, his son is unwilling to learn. There is, though, a caucasian boy in the neighborhood who wants to learn. The farmer overcomes his preconceived views against caucasians and decides to teach him about his culture.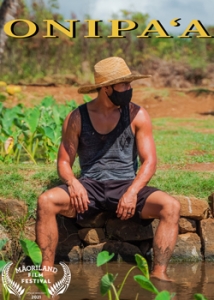 "It was kind of my take on saying, 'look, there is a rift in the community between these two demographics and ignoring it is half the problem,'" Ching said. "I just wanted to bring it to life and say, 'there's no room for that anymore in this day and age. What we're trying to do as perpetuators is to preserve our culture and preserve the art forms that we have. We cannot be prejudiced to who learn it and who do we think is worthy of learning it.'"
Ching started writing the script nearly two years ago with Associate Professor Lisette Marie Flanary. Ching wanted to bring about change to the current culture that he feels is "destroying our community."
"There's this division in the community and it's always like they pin it on the other side," Ching said. "I am Native Hawaiian, kānaka maoli, and we use this colonizer reference, 'they came in and they took this.' And then you have the other side too where they try to pin it on us. I think that we just need to not pin it on one person and have that bad vibe, but just to forgive each other."
Māoriland Film Festival
ʻOnipaʻa will be featured as one of 10 films in the Haumaru Shorts category, which will be shown at the festival in New Zealand. While tickets are only available for in-person screenings at the Māoriland Film Festival, Ching plans to take his film to other locations worldwide, including Hawaiʻi.
"When we were talking about distribution and talking about where I wanted to go with it, I always wanted to premiere in New Zealand and I always wanted to go to Māoriland," Ching said. "I'm just bummed out that it's virtual this year because New Zealand closed off their borders (due to COVID-19), but I'm so happy to have the honor and be a part of the showcase."
Production process
According to Ching, the production process was made easier because everyone on the team and cast knew the message they were trying to convey: coming together as a community and throwing away any prejudices. That message of working together as a group also came to life as they filmed during the COVID-19 pandemic.
"There were a lot of things we had to sacrifice ourselves. We had to keep a safe distance, we had to film with these regulations and we had to do things that were a big hassle, but we were able to work through it," Ching said.
Flanary said she is thrilled that Ching was able to complete his film project despite the challenges of the pandemic.
"Having seen him develop this film project for over two years since he began writing the screenplay in class, it's been amazing to see his vision finally realized and now it's going to be shared around the world. The Māoriland Film Festival screening is just the beginning of Dyllon being able to share his film with audiences and it will be a great launchpad for his career since he will be graduating this semester," Flanary said.
This work is an example of UH Mānoa's goal of Excellence in Research: Advancing the Research and Creative Work Enterprise (PDF), one of four goals identified in the 2015–25 Strategic Plan (PDF), updated in December 2020.
—By Marc Arakaki