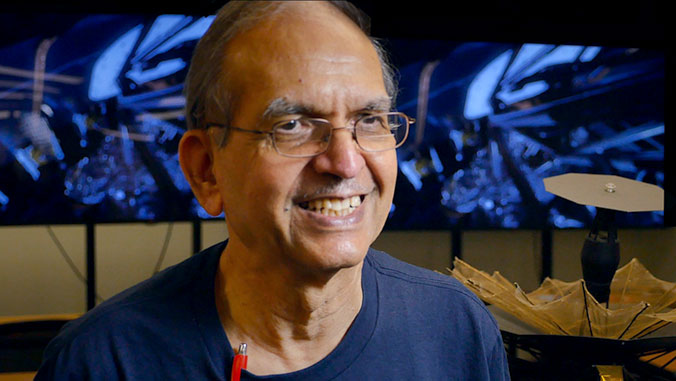 The first Mars sounds and images via SuperCam, an instrument located on top of the Perseverance rover on the surface of Mars, were presented in an online press conference on March 10 via YouTube. University of Hawaiʻi at Mānoa researcher Shiv Sharma is a co-investigator on the SuperCam instrument team.
This was the first opportunity for the Los Alamos National Laboratory and France's National Centre for Space Studies to show SuperCam data to the public, with the first half of the press conference in French and the second half in English. SuperCam is currently undergoing a series of tests designed to verify the operating status of all of its systems, part of an overall rover check-out phase which will last about three months.
"We all at UH were thrilled to hear the first sounds and see the first images of rocks on Mars taken by SuperCam," said Sharma, at the Hawaiʻi Institute of Geophysics and Planetology. "In the next three months, we are looking forward to more discoveries, especially if the SuperCam finds past life on Mars' surface."
The SuperCam instrument team will assist with detection of biosignatures—indicators that life existed in the distant past. The team will be able to detect organic compounds and biosignatures from a distance on and in rocks, soils and sediment layers on Mars.
SuperCam is a suite of instruments that uses remote optical measurements and laser spectroscopy to determine fine-scale mineralogy, chemistry, and atomic and molecular composition of samples encountered on Mars.
"The successful landing of the Mars 2020 rover during this pandemic has captured the attention of people around the world, and has restored the confidence in science and technology," said Sharma. "At UH, it is creating enthusiasm among undergraduate and graduate students showing that they could one day participate in the field of planetary science as well as solving the problems of our home planet Earth."
This event is an example of UH Mānoa's goal of Excellence in Research: Advancing the Research and Creative Work Enterprise (PDF), one of four goals identified in the 2015–25 Strategic Plan (PDF), updated in December 2020.