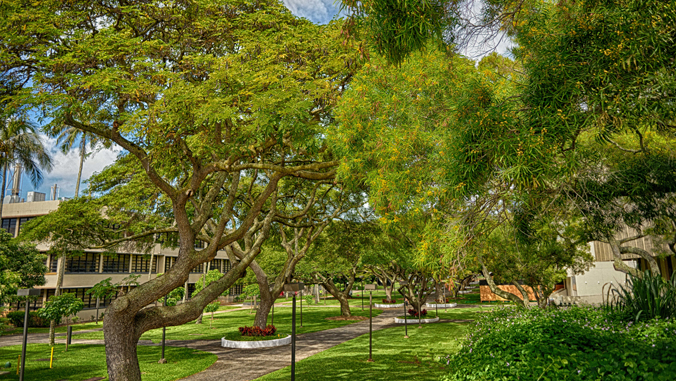 The natural beauty of the University of Hawaiʻi at Mānoa campus has been honored, again. UH Mānoa's accreditation as an international arboretum was renewed on March 22, 2021 for five more years. A week later, the campus received its 12th straight Tree Campus USA recognition from the Arbor Day Foundation. The 320-acre Mānoa campus is home to more than 4,000 trees and 500 species from all over the world.
"These recognitions are a direct reflection of the hard work and dedication of UH Mānoa's landscaping services team and the campus arboretum staff," said Roxanne Adams, UH Mānoa director of buildings and grounds, of the dedicated team of employees who care for the campus. "On top of their regular duties, they oversee volunteer plantings and maintain records documenting the attributes of each tree including species, approximate age and condition."
Campus Arboretum Curator Nōweo Kai said that the reaccreditation brings renewed determination to celebrate the living systems that help to soften and shade the campus's hardscapes.
"We believe that the work we do showcases trees and helps to cultivate meaningful relationships between them and people," said Kai. "Our trees, like our campus community, are uniquely beautiful and diverse, and well-deserving of this distinction."
International arboretum
With the renewal, UH Mānoa is one of 452 arboretums in 34 countries accredited by ArbNet, an international arboretum accreditation program through the Morton Arboretum, American Public Gardens Association and Botanic Gardens Conservation International.
"This ongoing recognition of professional standards and capabilities bears significance for your organization and for tree-focused public gardens," said Gerard T. Donnelly, president and CEO of The Morton Arboretum, in the letter notifying campus of the reaccreditation. "You have an important role in our shared purpose to plant and conserve trees, and accreditation in this work acknowledges your commitment."
Tree Campus USA
The Arbor Day Foundation Tree Campus USA program honors colleges and universities for effective urban forest management, promoting healthy trees and engaging students and staff in the spirit of conservation.
"Your entire campus community should be proud of this sustained commitment to environmental stewardship," said Lauren Weyers, Arbor Day Foundation program manager, of the recognition. "Your diligence in improving the environment and quality of life at your school contributes to a healthier, more sustainable world for us all."
More than 100 years of history
Many of the trees on the Mānoa campus were first planted in 1915 by famed botanist Joseph Rock. Some of the more unique species include a Hawaiʻi exclusive ʻōhiʻa lehua (Metrosideros polymorpha), the sausage tree (Kigelia africana), the cannonball tree (Couroupita guianensis) and the baobab tree (Adansonia digitata), which may be the largest of its kind in the country.
There are also a number of trees planted to commemorate events and people such as civil rights leader Martin Luther King Jr. and Alice Ball, the university's first African American chemist, instructor and researcher who was also the first woman to earn a master's degree from UH in 1915. Other trees were planted by famous people including former first lady Lady Bird Johnson and Japan's future Emperor Akihito and Empress Michiko.
Commitment to campus trees
Properly maintaining a campus with thousands of trees is a financial commitment that costs hundreds of thousands of dollars each year in grounds and building maintenance. Aside from the natural beauty, trees reduce carbon dioxide, encourage physical activity and provide mental health and educational benefits. Students engage in service projects that focus on the planning, planting and maintenance of trees on campus, which encourages their commitment to creating a more sustainable future.
UH Mānoa campus trees