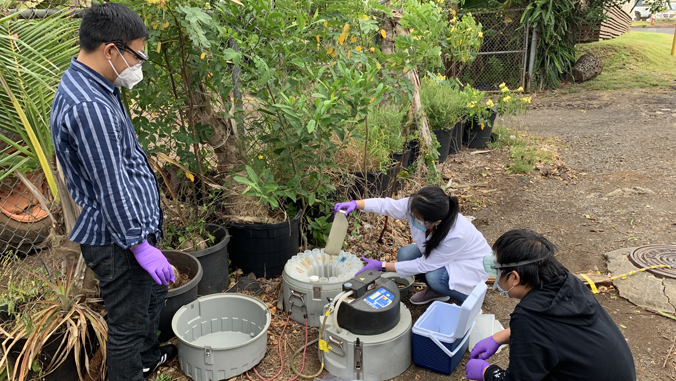 Wastewater is a reliable indicator of the prevalence of COVID-19 in a community, according to new research by University of Hawaiʻi at Mānoa's College of Engineering. Led by Professor Tao Yan, the team from the Department of Civil and Environmental Engineering discovered that wastewater contains the SARS-CoV-2 viral RNA and its concentration tracks community COVID-19 disease burden.
Researchers gathered and analyzed wastewater samples from the Sand Island (largest) and Honouliuli (2nd largest) Wastewater Treatment Plants in the City and County of Honolulu over a five-week period from August 27 to October 4, 2020, when Honolulu was placed under a lockdown in response to a growing number COVID-19 cases. The team tested the samples for a concentration of SARS-CoV-2 viral RNA in a lab at UH Mānoa.
At the beginning of the testing period, Honolulu reached its highest peak of more than 300 COVID-19 cases on a single day. After tougher COVID-19 restrictions were implemented, cases dropped to a seven-day average of 75 cases at the beginning of October 2020, when the sampling process concluded. Yan said the reduced concentration of the virus in the wastewater samples directly correlated with the drop in COVID-19 cases.
"Typically we think wastewater is loaded with enteric pathogens (microbes such as viruses, bacteria and parasites that cause intestinal illness). This study shows that wastewater surveillance can also be used to track community disease burdens of pathogens causing respiratory infections," Yan said. "This is extremely important as we closely monitor emerging variants of COVID-19 in the community and other potential pandemic strains in the future."
The findings were recently published in Water Research.
This work is an example of UH Mānoa's goal of Excellence in Research: Advancing the Research and Creative Work Enterprise (PDF), one of four goals identified in the 2015–25 Strategic Plan (PDF), updated in December 2020.