The pandemic exacerbated pre-existing stressors in the lives of many university students. Employment, housing and food insecurity have been compounded by new health concerns and the rapid shift to online learning.
During the 2020–21 academic year, like other University of Hawaiʻi campuses, Leeward Community College shifted to mostly remote learning. The college's early adoption of Open Educational Resources (OER) and other no-cost resources helped reduce the financial burden presented by high-cost textbooks.
In spring 2021, Leeward CC, the leader in zero-cost textbook (TXT0) classes in UH's 10-campus system, conducted more than half (52%) of all class sections with zero-cost textbooks.
"In spring 2019, Leeward CC had 35% of classes as TXT0, saving students over $3.4 million since we began tracking in 2015. I really thought the number of classes would start to plateau, but was amazed when two years later we are at 52% with $6.3 million in (cumulative) student savings," said Leanne Riseley, interim dean of academic services.
Students save
For students working toward earning their degree during a pandemic without access to resources they would normally have, OERs are proving to be the difference in helping their pursuit of academic goals. Not having to pay for course materials gives them the opportunity to use their money in other ways to meet their personal needs.
Students are singing the praises of zero-cost textbooks. Brianna Dyson earned her liberal arts degree from Leeward CC in May 2020.
"With the $121.80 I didn't have to spend on a textbook, I was able to pay for my son's daycare!" Dyson said.
Genesis Larson used her textbook savings in a different way.
She said, "With the money I didn't have to spend on a textbook, I saw the world I was learning about."
The big picture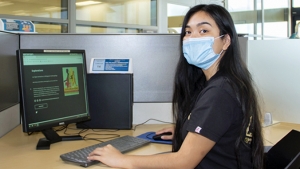 TXT0 is part of a larger UH Open Educational Resources initiative to make college more affordable by replacing high-cost commercial textbooks and other course materials with openly licensed versions that are available at no cost to students. The Creative Commons licenses integral to OERs allow instructors to adopt the materials as is, or to adapt and modify them to align with their specific course learning outcomes.
At Leeward CC, this initiative inspired faculty and academic support personnel to collaborate and innovate—librarians helped instructors identify OERs for their classes and where OERs did not exist, the library supported their move to TXT0 by purchasing ebooks and subscribing to streaming video collections that were accessible (and free) to students. Instructional designers helped instructors to incorporate OERs into their online courses and guided them through the course redesign process when necessary.
"Leeward CC continues to strive to reach the UH Community College strategic goal of reducing the cost of education for students through adopting OER to replace textbooks." said Chancellor Carlos Peñaloza.
Since 2015, Leeward CC has offered professional development and trained more than 150 faculty from all UH Community College campuses, UH Hilo and UH West Oʻahu. They credited this training with giving them the skills and confidence to use OER in their classes.
Faculty see benefits
This synergy directly impacted student learning, and many of Leeward CC's faculty believe that the benefits of transitioning away from costly commercial textbooks and course materials were well worth the effort.
Ashley Biddle, a psychology instructor, said, "Before, I found that students were overwhelmed with the amount of reading from a textbook and either just didn't do it or read but didn't do a great job pulling out important information. So, when I created my own re-mixed OERs, I pulled out this information for them, wove in YouTube videos, recorded my own mini-lectures on important topics and included links pointing them to popular press articles on related topics. And students are actually doing the reading now! Grades have improved, retention has improved!"
—By Tad Saiki