Thanks to dozens of collaborators across the University of Hawaiʻi System, an online, zero-cost textbook for two popular anatomy and physiology courses—Physiology 141 and 142—will replace the textbook that was used by almost 4,700 students during the last academic year for an estimated total savings of more than $433,000. The various textbooks currently used for these courses range in cost from $160 to $210. The new textbook is anticipated to be ready for fall 2023.
Kapiʻolani Community College Assistant Professor Sheryl Shook and former UH Associate Vice President of Student Affairs Hae Okimoto worked with 37 faculty, 11 of them co-authors, across all 10 UH campuses on the multi-year Online Educational Resource (OER) project.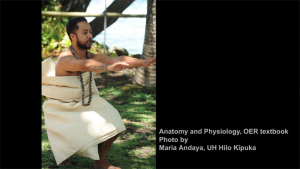 Shook is the author of The Science of Sleep OER textbook, which she uses to teach lecture and lab courses. She is a big fan of saving students money through OER.
"Students tell us they have to choose between buying food or a textbook. This creates an opportunity gap, not just an achievement gap, with an enormous impact on student success," she said. "Look at the data about which students are least likely to afford the book. You'll see that high textbook cost is a form of institutional racism, so I am very thankful our administrators and faculty are supportive of OER."
Shook praised all the faculty involved, especially the co-authors, who had to shift gears in April 2020 when the COVID-19 pandemic hit. The team's scheduled "book sprint" went all online into uncharted territory, which increased the time it took to write it.
"It was one of the most intense things I've ever done," she recalled. "It was really challenging, but the team I worked with—they care so much about the students."
Indigenized, localized content
The team Indigenized and localized content to give Hawaiʻi students a sense of connection. Their efforts impressed the book production company they are working with. According to Shook, Book Sprints, a company that facilitates book creation, said it has never worked with anyone who wrote that much original content.
The team is in the process of collecting and curating all the images for the book and ancillary tools. The work is extensive, since the visuals span body systems, gross anatomy and microscopic images. Some key team members in this effort are:
Amanda Alimboyoguen, who teaches anatomy and physiology at

Kapiʻolani

CC and is leading the ancillary (lecture slides, study guides, homework questions, etc.) development project for the textbook.
Rachel Lindsey, who teaches anatomy and physiology at

Kapiʻolani

CC and is creating the course shells (starter structures) that will be integrated with the textbook.
LynleyShimat Lys, who is a UH Mānoa PhD graduate, is leading the OER image curation effort and also creation of student tools such as interactive quizzes and drag-and-drop activities for each chapter.
Free in fall 2023
The goal is to have the textbook completed by May 2023, then to do professional development with dozens of instructors across the UH System since the anatomy and physiology text is used in courses that are prerequisites for most programs in nursing, medicine, pharmacology, dental hygiene, radiology technician, physical therapist, physical therapy assistant and respiratory therapist, as well as some biological sciences.
Shook said, "The hope is to have this be a best practice so we can share it with people all over the world."
She also recommends the UH Community Colleges OER website as a resource to find campus OER leads, information about OER 101 (an asynchronous online course) and more.
Anatomy and physiology OER textbook coauthors
Luria Namba, Hawaiʻi CC–Pālamanui
Lissandra Baldan Jenkins, Hawaiʻi CC (Manono)
Gabriel Peckham, Honolulu CC
Amanda Lee, Kapiʻolani CC
Rachel Lindsey, Kapiʻolani CC
Sheryl Shook, Kapiʻolani CC
I-Chia Shih, Leeward CC
Trenton Niemi, UH Maui College
Jason Higa, UH Mānoa
Rebecca Romine, UH West Oʻahu
Joel Kaufmann, UH Hilo
—By Kelli Abe Trifonovitch