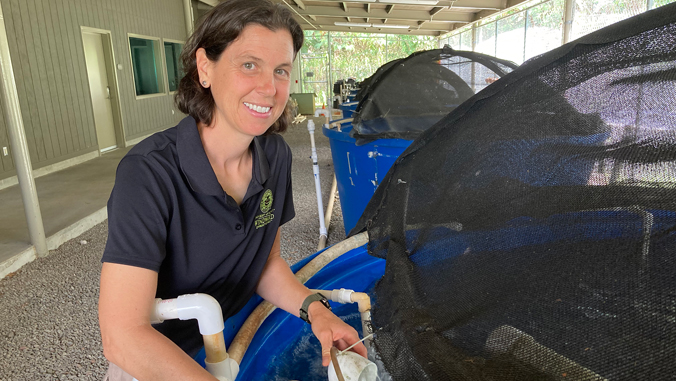 Native Hawaiian students and anyone interested in agriculture career pathways can get free tuition and other services through Windward Community College's ʻAo Kahi project. ʻAo Kahi: Growing Truth and Light is expanding opportunities for Native Hawaiian students to obtain recognized postsecondary credentials and hands-on learning in sustainable agriculture.
Besides the cost of tuition, qualified students can enroll to receive: career readiness support, textbook loans, digital access to learning platforms, a 40-hour paid internship, professional development and more. The next cohort starts in October and runs through January 2023. Fall applications will be accepted until August 8, 2022.
"The ʻAo Kahi project is a great option for Native Hawaiian students and anyone interested in any major since sustainable agriculture knowledge is valuable personally and professionally. We welcome students to start their career pathway at Windward Community College," said Jodie Yim, ʻAo Kahi project coordinator.
Native Hawaiian students with a minimum 2.0 GPA (from high school or a community college) can register for eight-week hybrid sustainable agriculture classes online and participate in hands-on projects. Proof of Native Hawaiian ancestry can be verified by birth certificate, Hawaiian registry card or a verification letter from Kamehameha Schools, Department of Hawaiian Home Lands or the Hawaiʻi State Department of Health. For questions about the ʻAo Kahi project, contact Yim at wccag@hawaii.edu.
Native plants, agroecosystems and more
Classes include:
AG 120: Plant Science (starting fall 2022)
Learn about morphology, anatomy, physiology, classification, growth regulators and propagation of native plants of Hawaiʻi. Online lectures are available 24/7 combined with weekly in-person labs consisting of hands-on activities and take-home plants.
AG 202: Agriculture, Environment, and Society (starting spring 2023)
Study agroecosystems and the interrelationship among the crop plants, essential plant nutrients, social factors and cultural practices.
"We encourage students to follow their passion with this agriculture career pathway, leading to a certificate and/or degree, and ultimately employment," said Windward CC Sustainable Agriculture Instructor Jolie Dollar.
More about
ʻAo

Kahi

In spring 2022, the ʻAo Kahi project began providing scholarships and other support for Native Hawaiian students who register for computer science classes, or who commit to attaining the Certificate of Competence in Information Security.

ʻAo Kahi is a Native Hawaiian Career and Technical Education project sponsored by ALU LIKE, Inc. and funded through a five-year grant from the U.S. Department of Education.