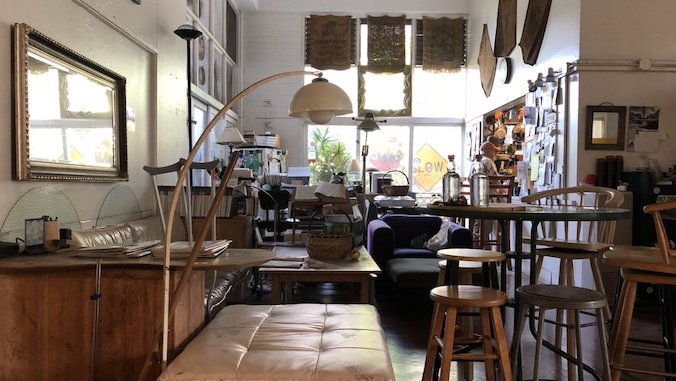 For nearly three decades, the Coffeeline Campus Coffeehouse on the bottom floor of the Atherton YMCA building has been a favorite spot for University of Hawaiʻi at Mānoa students, faculty, staff and administrators.
The hidden cafe across University Avenue officially closed its doors at the end of June to make room for a new UH student housing and an innovation/entrepreneurship center. For the past 28 years, it was a space where UH Mānoa community members came to work, study, exhibit art, play music, talk story and even hold classes and seminars.
"Coffeeline was an oasis where everyone is trustworthy, fair and interested in the welfare of our planet and its inhabitants," said Dennis Suyeoka, the owner-operator-barista-chef and UH alumnus. "It was such a rewarding experience and a pleasure to deal with the smartest people on Earth."
More than a coffee shop
Opened in 1986, the coffeehouse was taken over by Suyeoka in 1993 and, according to customers, became a "kooky cool" place that served "the best coffee and food in town" with an "ambiance that can't be beat."
Filled with a unique collection of chairs, tables, art, books and other odds and ends acquired throughout the years, Suyeoka described Coffeeline's decor as similar to his customer base—eclectic, informal, with an international vibe.
In addition to "no nonsense" espresso, teas and other beverages, Coffeeline's food menu was a big hit with regular customers, including breakfast items and omelets served all day, pizzas, salads, "big hippie sandwiches," and weekly daily specials like lasagne and the popular Wednesday lamb dinners. Available only by RSVP, the dinner hosted up to 30 guests that would usually include a mixed crowd of UH Mānoa faculty and students and community members. Coffeelineʻs all-time customer favorite menu item according to Suyeoka was the tomato feta tapenade olive sandwich.
A UH Mānoa fixture
"There never was a time I did not look forward to going to work," said Suyeoka, adding that he has come to know his UH customers very well. Many of those customers say they appreciate the little community within a community that he created.
As a new faculty member, UH Mānoa computer scientist Henri Cassanova said he discovered Coffeeline immediately after moving to Hawaiʻi 15 years ago. "It was my office away from the office, and I can attribute a lot of my academic accomplishments to those incredibly quiet and productive hours spent in a special place with good coffee and good food. It was a place to meet interesting people, many of whom would become lasting friends. It was a place to stumble upon interesting objects, magazines, music and art. Dennis managed to create a unique environment, and I have no hope of ever finding any place that could even come close to it."
Debora Halbert, UH associate vice president of academic affairs, first encountered Coffeeline as a graduate student of UH Professor of Political Science Kathy Ferguson, who held her feminist theory course there.
"As a department chair over a decade later, I would go to Coffeeline to have lunch and get away for just a bit. It was always a calm and peaceful place to work," Halbert said. "I know numerous graduate students who wrote their dissertations at Coffeeline. Dennis created a space that was eclectic and quirky, that allowed for people from all sorts of random backgrounds to come together and become friends. There is no other place like it. I'll miss it a lot."
Suyeoka frequented many UH events as well, such as UH Mānoa art shows, cultural events and School of Ocean Earth Science & Technology's TGIFs. "UH has been intellectually and playfully a good part of my life. Coffeeline drew a higher caliber of clientele, many young idealistic people, graduate students. I liked to encourage them to succeed, and cheered them on as they pursued their own dreams."
More on Suyeoka
A UH Mānoa alumnus with a bachelorʻs degree in journalism, Suyeoka said it took him 11 years to finish college because he loved education and learning so much. He studied business, architecture, the arts and sciences. In his former life, Suyeoka was a stock broker on Maui for several years. For the past 25 years, he has played the mandocello as part of the band Whiskey Starship. Former UH Mānoa Chancellor Robert Bley-Vroman is also a member.
Suyeoka said he hopes to rebuild his business again in the near future.
—By Arlene Abiang