Meteor cluster event captured on Maunakea at 3:58 a.m. on July 14. (Photo credit: Subaru Telescope, National Astronomical Observatory of Japan, and Asahi Shimbun Company)
An unusual phenomenon raced across Hawaiʻi skies this summer to the delight of online star gazers tuned in to the Subaru Telescope's livestream feed made accessible to the public. The Subaru-Asahi Sky Camera atop Maunakea captured more than a dozen meteors streaming from the same direction within a 10-second window.
Avid viewers online were mesmerized, unsure of what the head-turning sight actually was. Astronomers from Subaru's 8.2-meter telescope describe the non-hazardous event as a rare meteor outburst associated with a "meteoroid cluster." Only a few cases have been reported since the phenomenon was first identified during the Leonid meteor shower in 1997. A meteoroid cluster is thought to be caused by meteoric material breaking up into smaller pieces shortly before entering Earth's atmosphere.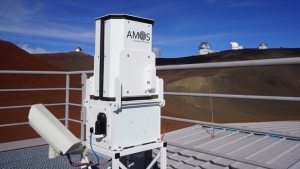 "The scientific importance of capturing such a rare phenomenon is extremely great, and it is especially significant because the overall duration of the event was longer than in previous cases," said Professor Junichi Watanabe, vice-director of the National Astronomical Observatory of Japan which oversees Subaru. "The fact that the camera was located at Maunakea, one of the best observation sites in the world, was also a major factor in capturing such a rare event in addition to recent developments in camera technology."
At least 11 meteors of the cluster were observed by the two All-Sky Meteor Orbit Systems (AMOS) cameras atop observatories on Haleakalā and Maunakea. The AMOS data, when examined by astronomers, suggests that the cluster was caused by fragments of a fragile Halley-type comet. The University of Hawaiʻi Institute for Astronomy hosts the AMOS systems, which are operated by Comenius University in Bratislava, Slovakia, and are used for observations and analysis of meteors and fireballs.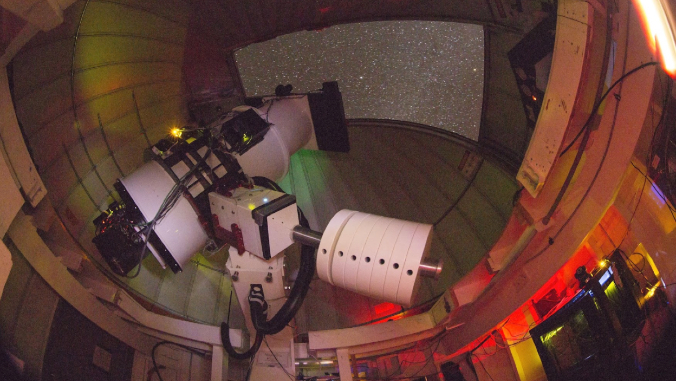 Subaru reached out to astronomers at the UH ATLAS (Asteroid Terrestrial-impact Last Alert System) telescope on Haleakalā to see if the cluster was also detected. The event was captured by its all-sky camera.
"These meteor clusters come from larger parent bodies like asteroids or comets so they can tell us more about the compositions of those larger objects," said Larry Denneau, an ATLAS project scientist. "It's exciting that we have more 'eyes on the sky' that are able to capture these very short-lived events."
Hawaiʻi

leads in near-Earth object detection

Collaboration between observatories on Maunakea and Haleakalā is crucial. Hawaiʻi astronomy plays a vital role in the nation's planetary defense system. IfA-run telescopes ATLAS and Pan-STARRS on Haleakalā specialize in the detection of potentially hazardous asteroids. After an asteroid is identified on Maui and appears to be passing close to Earth, telescopes on Maunakea and elsewhere will stop what they are working on and track the object to determine if it is a possible threat.

Closer analysis of the meteor cluster is underway and more in-depth information will be published.