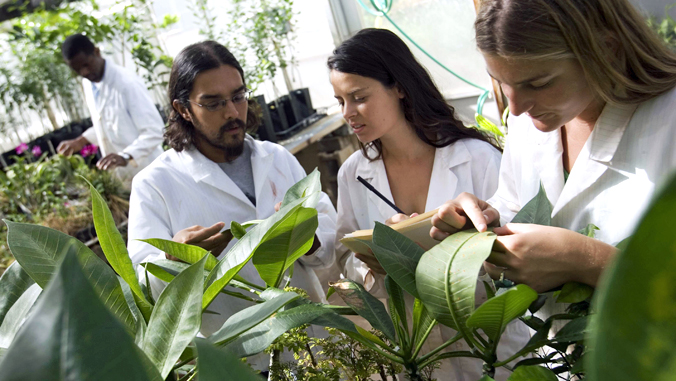 The University of Hawaiʻi topped $400 million in extramural funding for the third consecutive year with a near-record total of $485.5 million to close fiscal year 2021 (FY2021). This year's number represents a $35.1 million or 7.8% increase over FY2020 and is just $3.1 million shy of UH's best extramural funding year total of $488.6 million in FY2011.
UH Mānoa, the flagship campus of UH's 10-campus system, topped the extramural award amounts this year with $352.6 million, while the UH System brought in $85.6 million, UH Community Colleges totaled $28.35 million, and UH Hilo received $15.97 million.
"Despite having almost every aspect of our personal and work lives disrupted by the virus, our dedicated and hard-working faculty, staff and graduate students have remained focused and resilient to the task at hand," said UH Vice President for Research and Innovation Vassilis L. Syrmos. "Their tireless efforts have kept the University of Hawaiʻi research enterprise moving full speed ahead and on the right trajectory—positively contributing to the well-being of our institution, state, nation and beyond."
Extramural funding is defined as external investments from governmental agencies such as the federal government, industry and non-profit organizations that support research and training activities conducted by university faculty and staff that are directed toward research and innovation that helps to increase knowledge and provide solutions to improve quality of life.
"Once again, I would like to congratulate the UH Mānoa research ʻohana for their outstanding and innovative contributions that have led to this year's near-record extramural funding tally for UH in less-than-ideal circumstances," said UH Mānoa Interim Vice Chancellor for Research Velma A. Kameoka. "As our top-notch faculty continue to inspire our students with their research and creativity, I would also like to recognize the unsung efforts of our hard-working postdocs, student research assistants and staff for their dedication to help keep the UH research enterprise strong and resilient."
Several examples of UH programs that attracted the attention of funders: