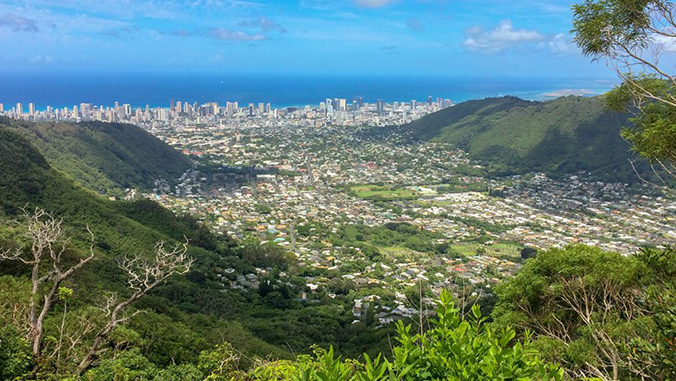 The University of Hawaiʻi at Mānoa is offering a new way for students to incorporate sustainability into their undergraduate education. The Undergraduate Certificate in Sustainability provides students an opportunity to explore links between their major area of study and environmental stewardship.
UH Mānoa's Institute of Sustainability and Resilience (ISR) spearheaded the certificate program, which aims to help students develop and expand in three areas:
understanding of the interconnectivity of human and natural systems;
evidence-based reasoning on the implications of sustainability problems and/or proposed solutions;
understanding that multiple knowledge systems inform processes for achieving sustainability.
"The new undergraduate certificate provides students another option to study sustainability in addition to the BA in sustainability," said ISR Director Makena Coffman. "The certificate is designed to complement students' primary field of study, and give a broad grounding in issues of sustainability."
The UH Mānoa undergraduate certificate in sustainability requires a total of 15 credits, of which three to six are lower and nine to twelve are upper division to provide flexibility for students at any stage in their undergraduate education. Students can choose sustainability courses in disciplines offered through UH Mānoa's colleges and schools including:
College of Education
College of Engineering
College of Arts, Languages and Letters
College of Natural Sciences
College of Social Sciences
College of Tropical Agriculture and Human Resources

Hawaiʻinuiākea

School of Hawaiian Knowledge
School of Ocean and Earth Science and Technology
In a survey from 2019, 95% of students at UH Mānoa were concerned or very concerned about climate change. Many students showed interest in being part of the effort toward a sustainable future, and the new certificate allows them to integrate sustainability with a wide range of disciplines.
Students interested in the new Undergraduate Certificate in Sustainability can email isr@hawaii.edu. Read more about sustainability certificate and degree opportunities at the UH Mānoa ISR website.
This effort is an example of UH Mānoa's goals of Building a Sustainable and Resilient Campus Environment: Within the Global Sustainability and Climate Resilience Movement (PDF) and Enhancing Student Success (PDF) two of four goals identified in the 2015–25 Strategic Plan (PDF), updated in December 2020.