The University of Hawaiʻi aims to touch lives, restore hope and build a healthier and stronger community through the 2021 Oʻahu Aloha United Way (AUW) campaign, which runs through October 8.
For many years, UH has been a strong partner to AUW thanks to the UH ʻohana and hopes to continue this tradition with a 2021 goal of $200,000. With the current pandemic environment, the economic hardships for many Hawaiʻi households has increased dramatically.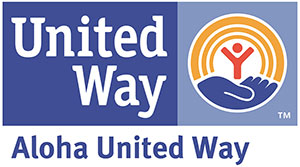 AUW actively works to protect the health, safety, and well-being of our communities as Hawaiʻi continues to confront the effects of the COVID-19 pandemic. It works with 1,500-plus companies and 300-plus nonprofit partner agencies to reach every part of the community. With the core understanding that sustainable change cannot be developed in isolation, AUW depends on supporters who share its vision of a better life for the community today and for generations to come.
Every dollar contributed through AUW's campaign stays in Hawaiʻi, touching the lives of Hawaiʻi's children and families, friends, and neighbors. All donations enable AUW and its partner agencies to help address the greatest needs in the community. The programs supported through the AUW campaign help prepare keiki for kindergarten and keep them on a path to succeed in school, research health challenges, feed the hungry, care for the elderly and ill who need assistance, rehouse homeless families, and so much more.
UH Mānoa, Kapiʻolani Community College, Leeward CC and Windward CC employees can donate through AUW ePledge.
UH West Oʻahu and Honolulu CC employees can donate through Philanthropy Cloud.