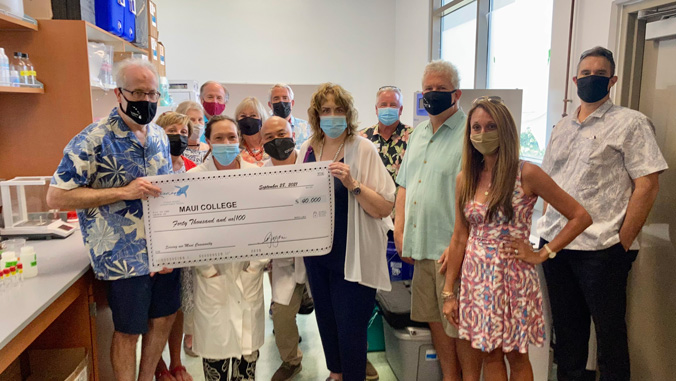 The only water quality laboratory on the island of Maui is at the University of Hawaiʻi Maui College, and it recently received a $40,000 gift from Kāʻanapali Ocean Resort Charitable Trust (KORCT). The funding will be used for a student internship at the lab and to purchase a peristaltic pump for filtering seawater, a laboratory furnace for combustion of bottles and general laboratory supplies.
The UH Maui College Water Quality Lab measures dissolved inorganic and organic nutrients as well as E. coli in seawater and freshwater. The lab provides services at a per-sample rate to industry, researchers, non-profit organizations and the community. Before it was established in 2020, samples had to be flown to Honolulu, often on ice and within hours of collection.
The lab is run by Andrea Kealoha. The UH Mānoa alumna was born and raised in Pāʻia and graduated from King Kekaulike High School. During the pandemic, Kealoha conducted research off of Kahekili Beach Park, site of the Lahaina Wastewater Reclamation Facility injection wells. Given the wastewater infrastructure improvements and the dramatic reduction in tourism, Kealoha had an unprecedented opportunity to investigate the potential positive impacts of improved water quality on coral reef health and resilience, right in front of the Kāʻanapali Ocean Resort.
"When we found out that Andrea's work was happening literally in our backyard, we were eager to participate and get our homeowners involved," said Kāʻanapali Ocean Resort General Manager Ryan Nobriga.
KORCT is invested in preserving the health of local reefs and supports efforts in this area from mauka to makai (from the mountain to the ocean).
In 2019, UH Maui College began offering a new science lab technician certificate program to provide knowledge and skills to collect, analyze and interpret environmental and water quality data. Kealoha said then that workforce demand for lab technicians with expertise in environmental and water quality testing in Hawaiʻi was projected to increase 36% by 2025.