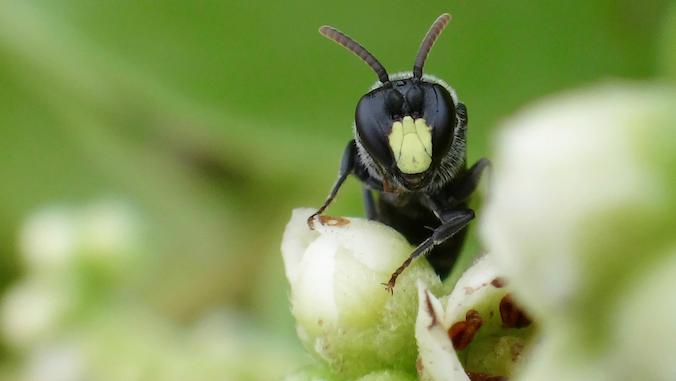 Of the more than 500 species of yellow-faced bees worldwide, many are found only in Hawaiʻi, such as Hylaeus akoko (only on Hawaiʻi Island), or Hylaeus anomalus (only on Oʻahu). With extremely narrow ranges and sparse numbers, as well as human development, it's no wonder they're endangered.
But with $1 million in new funding from the U.S. Fish and Wildlife Service's (FWS) Competitive State Wildlife Grant program, Hawaiʻi is among 16 states that can continue its efforts in protecting key wildlife species: Hawaiian yellow-faced bees, land snails and ʻelepaio birds. The project is an ongoing collaboration between the University of Hawaiʻi at Mānoa, the Hawaiʻi Department of Land and Natural Resources (DLNR) and FWS' Coastal Program.
"The program aims to understand the resource needs of and threats to endangered native species, including the yellow-faced bees, with the goal of developing management tools or strategies to recover their populations," said Assistant Researcher Paul Krushelnycky of UH Mānoa's College of Tropical Agriculture and Human Resources (CTAHR). "Yellow-faced bees are Hawaiʻi's only native bees, and they are important pollinators of native plants."
Saving the bees
So far, researchers have learned about the plants both pollinated by these species and relied upon to provision their nests. They have also studied seasonal trends in the bees' floral resource use and nesting activity, as well as competitors, predators and parasitoids that impact their success.
The grant will help leverage this information to guide plant restoration strategies, provide nesting habitats and conduct translocations to establish new populations.
"Over the past few years, my collaboration with Hawaiʻi DLNR and USFWS Coastal Program has yielded a lot of great information about the floral and nesting resource needs of endangered coastal yellow-faced bees," said Krushelnycky, who is with CTAHR's Department of Plant and Environmental Protection Sciences. "I'm excited that we can now continue this partnership and put that knowledge into practice, by restoring native habitat for these bees and revitalizing coastal ecosystems."
"We are thrilled to be able to continue our work for the benefit of endangered yellow-faced bees," added Cynthia King, principal investigator with Hawaiʻi DLNR, Division of Forestry and Wildlife. "The USFWS State Wildlife Grant (SWG) program has been pivotal in providing funds for native invertebrate conservation which wouldn't otherwise be available for on-the-ground projects in Hawaiʻi. Past awards have allowed us to tackle immediate threats and conservation challenges relating to endangered kahuli tree snails and damselflies, and our state insect, the Kamehameha butterfly. This year's invertebrate projects are great because they build off of knowledge and experience we've gained during previous SWG projects."
This research is an example of UH Mānoa's goal of Excellence in Research: Advancing the Research and Creative Work Enterprise (PDF), one of four goals identified in the 2015–25 Strategic Plan (PDF), updated in December 2020.