A University of Hawaiʻi at Mānoa student's decade-long quest to become one of the best in big wave surfing is the focus of a new film at the 2021 Hawaiʻi International Film Festival (HIFF).
Wrenna Delgado is a full-time Shidler College of Business student, mother to her 5-year old daughter and intern of the non-profit organization Breast Cancer Hawaii. Earlier this year, the junior accounting major was the state's lone recipient of a $10,000 national scholarship to benefit students toward a career as an auditor. The 32-year-old came to Hawaiʻi from New Jersey when she was 19, hoping to become a professional big wave surfer.
The film Bigger Than Me showcases Delgado's more than 10 year pursuit in big wave surfing—from Oʻahu's iconic Waimea Bay, to the cold waters of Mavericks in Northern California, to the ultimate big waves of Peʻahi (Jaws) on Maui. It captures Delgado's journey as she is confronted by the pressures of carving out a professional sporting life as a woman—without a sponsor—working two jobs to support her dream.
"This film is the honest evolution of the first part of my life. I hope it makes people scoff, laugh, cry, question, but, most of all, reflect on what it means to truly accept yourself," Delgado said. "It feels surreal to be in a film at HIFF. I am so amazed that this film came to fruition after years of filming. The film being in the HIFF is another level of bewilderment."
The 53-minute film premiered at HIFF on November 9 at the newly renovated Consolidated Theatres Kahala. It is also available online from November 10-28 at the HIFF website.
A decade-long process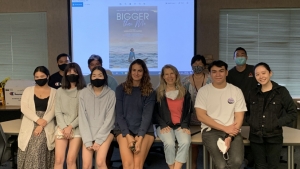 Delgado said the film's director, Claire Gorman, contacted her in 2010, through a mutual surf friend, with an idea to follow and film an emerging female big-wave surfer for a winter season.
"At that time there were very few women dedicated to surfing big waves and literally no publicity around it. Claire wanted to show what it was like for females forging a path in the male-dominated sport," Delgado said.
The initial plan was to film for about a year and then finish the production. However, Delgado said, "life happened and years passed." Although the production wasn't yet complete, the pair developed a friendship and both started their own families.
"As my life unfolded, Claire kept collecting little bits and moments of the ride," Delgado said. "The budget was zero. Everything we did, we did out of dedication to the film."
Delgado and Gorman stuck to it and eventually finished the film in 2020 and entered it for consideration by HIFF.
"For 10 years, this film has been in the background of my life, sometimes I would be fed up with it, other times I thought it would never reach the public. But overall I felt committed to seeing it through and I am so overwhelmingly grateful that I got to be a part of something like this," Delgado said.
—By Marc Arakaki