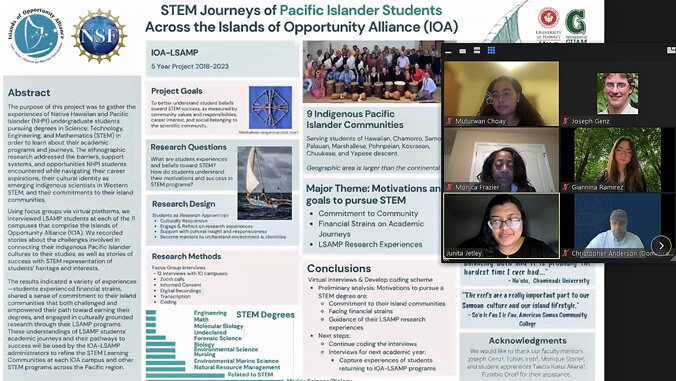 An assessment of Native Hawaiian and Pacific Islander (NHPI) undergraduate students pursuing STEM-related degrees earned a team of student researchers from the University of Hawaiʻi at Hilo and the University of Guam (UOG) recognition by the National Science Foundation (NSF).
Researchers examined Pacific Island student beliefs regarding success in STEM fields by measuring community values, career interest levels, social concepts, senses of responsibility and the extent of connection to their communities. They assessed ethnographic influence on barriers, support systems and opportunities.
"We recorded stories about the challenges connecting their Indigenous Pacific Islander cultures to their studies, but also stories of success with STEM representation of students' heritage and interests," the students wrote in the project's abstract.
The study's results presented a variety of experiences; researchers found some NHPI undergrads who experienced financial strains also shared a sense of commitment to their island communities that both challenged and empowered their path toward earning degrees, and promoted engagement in culturally grounded research.
In October, the collaborative team virtually presented their work at a regional annual conference sponsored by NSF. They were offered the opportunity to present their research findings orally at the Louis Stokes Midwest Regional Center for Excellence conference, Empowering Diverse STEM Innovators, after winning the "Top 25 Abstract" honor.
UH Hilo students working on this leg of the five-year project include Junita Jetley, Evangeline Lokebol and Taecia Kukui Akana. UOG students involved in the study include Muturwan Choay, RoCelia Paulino and Eusebio Orot.
The students were mentored by UH Hilo Associate Professor of Anthropology Joe Genz, Associate Professor of Education Tobias Irish and Monique Storie, who serves as dean of university libraries at UOG.
The study
The students sought feedback from 12 focus groups across 11 college campuses in rural island communities in the Pacific region. The study included students who attend schools part of the Islands of Opportunity Alliance network, a group of higher education institutions whose mission is to increase the number of underrepresented minority students, especially students of NHPIancestry, graduating with two- and four-year degrees in STEM disciplines.
UH Hilo is the lead institution within the network, joining UH Mānoa, UOG, American Samoa Community College, College of the Marshall Islands, College of Micronesia, Chaminade University of Honolulu, Guam Community College, Hawaiʻi Pacific University, Northern Marianas College and Palau Community College.
For more go to UH Hilo Stories.
—By Jordan Hemmerly, who is earning her bachelor's degree in marine science at UH Hilo