Update January 9, 2022: UH AI Racing Tech had an opportunity to perform an exhibition run allowing them to take a few laps around the track to show friends, families and sponsors the morning of the competition. The car hit 100 miles per hour, but unfortunately experienced a hardware issue that caused its GPS to go offline. The car hit the inner pit wall checking them out for the rest of the day. Team members are still extremely proud for what they were able to accomplish and are super excited for the next race. This race brought them to the next level and they greatly improved their perception software and vehicle controller.
Five of the nine teams advanced into the main event. PoliMOVE was the winner of the Autonomous Challenge @ CES.
Original story:
The University of Hawaiʻi will make history once again competing in the world's first ever head-to-head autonomous car racing competition. UH AI Racing Tech, which comprises students and faculty from UH and the University of California, San Diego, heads to Las Vegas for the Autonomous Challenge @ CES (Consumer Electronics Show) on January 7. Nine teams from eight countries representing 19 universities will compete in the single elimination contest, with the winner taking home more than $200,000.
UH AI Racing Tech hopes to improve on its 6th place finish in October at the Indy Autonomous Challenge—the first ever autonomous race car event—held at the Indianapolis Motor Speedway.
"That was a very significant result for us, but one we feel we can improve and add to," said UH AI Racing Tech team-principal Gary Passon. "This event we're really focusing on how do we improve our reliability and improve our location information and in doing so, be able to move up the competition ladder."
In autonomous car racing, the driver is replaced with a variety of sensors that act as the eyes and ears of the vehicle. These are supported by a powerful computer that helps to perform the many path planning, tactical and strategic decisions needed to provide the maximum performance from the vehicle. The system is an example of artificial intelligence, which requires engineers to create algorithms to program the car to generate human-like behaviors and interpret complex sensor data.
At the Indianapolis competition, teams raced individually for the best time. Each car needed to effectively navigate the course and its stationary surroundings. The upcoming competition at the Las Vegas Motor Speedway will pit one car against another car simultaneously on the same track. They will have to pass the other car multiple times during the race. The cars will not only have to autonomously navigate the track itself, but locate and pass another moving vehicle. Teams will begin the competition individually for seeding and then it will be single elimination to determine a winner.
"Two cars will go out at the same time and they will attempt to pass each other so 'A' will attempt to pass 'B' and 'B' will attempt to pass 'A,'" Passon said. "Speeds will ever be increasing so the teams have to prepare differently for this than they did for the Indianapolis Challenge, which was primarily against one's own abilities."
Passon added, "This is a much more difficult challenge for the teams and the time between the two events is pretty small so the teams are really working hard to prepare themselves to be able to meet those requirements for this particular version."
The race will be live streamed on the Autonomous Challenge @ CES website and on Twitch @IndyAChallenge. Coverage is scheduled to begin at 10 a.m. (HST) on January 7. All teams that raced in Indianapolis will also compete in Las Vegas, including TUM Autonomous Motorsport from Germany, which took home the $1 million first place prize.
Foundation built on the Valley Isle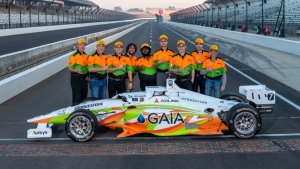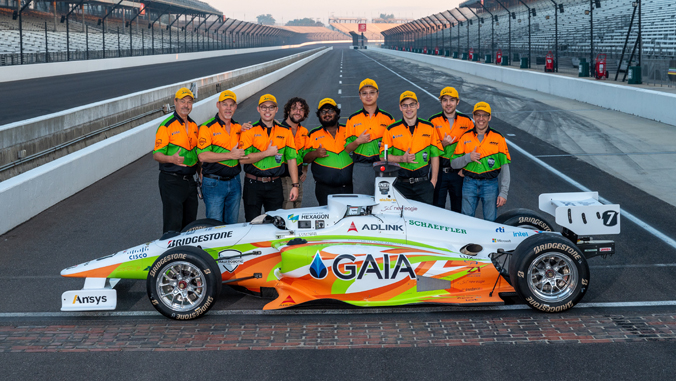 UH AI Racing Tech was established through a UH Maui College course in spring 2020 on autonomous vehicle technology. Passon, the course's instructor, teamed up with UH Mānoa's College of Engineering and experts from UC San Diego to provide additional expertise and give students a hands-on learning experience.
Passon met and worked with UC San Diego Professor Jack Silberman on qualifying for the Indy Autonomous Challenge, which consisted of an extensive process, including a test run of its software in an advanced simulator system against other teams in May 2021. Silberman said the partnership has been extremely beneficial and he has many students lining up to eventually become part of the program.
"It's just been an amazing partnership and collaboration," Passon said. "The talent base and skills that Jack and his team have brought to the event are clearly helping to make sure that our joint effort is positioned for the middle and long term. We don't look at this event as a one and out, but just another milestone in the enduring collaboration between the universities and between Jack and I on developing these kinds of programs."
The UH AI Racing Tech team is supported by UH Maui College Assistant Professors Elisabeth Dubuit and Jung Park, UH Mānoa Assistant Professors Zhuoyuan Song and Il Yong Chun, as well as former UH Mānoa research scientist Chris Battista, spring 2021 mechanical engineering alumnus Daryll Suyat, mechanical engineering junior Lillian Shibata, and other UH Mānoa students and graduates. It also proudly works with many partners from the private sector, as well as other experts and students from UC San Diego and UC Berkeley.
The team is also supported by several local and other industry corporations, including Maui Robotic Vehicle Association, St. Anthony School STEM program, VectorAero LLC, New Eagle LLC, ADLINK, Luxonis, PointOneNav, Emlid, RockWestComposites and many others.
Follow updates on the UH AI Racing Tech's Twitter page.
—By Marc Arakaki